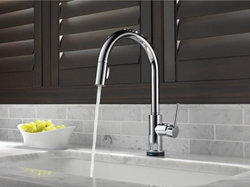 While traditional subway tiles are plain white ceramic, altering the arrangement of the tile, the color or material, or even slightly changing the size or shape can create a very different look while still maintaining that classic air.
(PRWEB) April 29, 2015
HomeThangs.com – the Online Home Improvement Store has made their goal to deliver the right product to the consumer. With that in mind, shopping and home design tips, as well as special product selections are being introduced.
Subway tiles have long been a classic option for the bathroom and kitchen, and in recent years they've seen a particular surge in popularity, both in their classic form, and with a few unique variations. HomeThangs.com has introduced a quick guide to a few of the less traditional takes on subway tile that have started really taking off.
On the simplest end of the spectrum are changes in the way the subway tile is installed. Traditional subway tile is laid like bricks, but recently it's become trendy to lay the same tile in different patterns, like simple stacks, herringbone, diagonal, basket weave, or even vertically. Though the tile is the same, the final impression is very different. Similarly, while most subway tile is installed with white grout and very thin grout lines, recently it's become more popular to use dark or colored grout with much more visible lines, which makes the shape of each individual tile pop.
But the variations on traditional subway tile only get more unusual from there, including colored glazed finishes (rather than the traditional white), or even the use of totally different materials, like glass, marble, or other stone, all of which produce a very different final look and feel.
For a more in depth look at these unique twists on subway tile, check out the full article here.
HomeThangs.com is not only a home improvement superstore, it also provides expert design tips and a comprehensive shopping guide, taking the ideas from professional interior designers, and offering tips to the consumers on how to pick the products to best suit their needs.