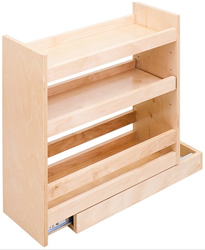 Traditional kitchen cabinets more or less have to be lined up side to side at the top or base of the kitchen. But tall, thin, rectangular cabinets can be squeezed into small spaces that a traditional cabinet simply wouldn't fit.
(PRWEB) April 06, 2015
HomeThangs.com – the Online Home Improvement Store has made their goal to deliver the right product to the consumer. With that in mind, shopping and home design tips, as well as special product selections are being introduced.
Organizing a small kitchen can be a big hassle. The third part of HomeThangs.com's new series on small kitchen storage takes a look at a few more permanent solutions to the problem of a poorly designed small kitchen. While temporary organizers or more complex ones built into existing cabinets can get the job done, sometimes the best option is to rebuild the kitchen from the ground up. Smarter cabinet designs and a better layout are the best way to make a small kitchen more usable, and a few of the more unusual designs can make the biggest difference.
Traditional kitchen cabinets consistently fall short in terms of functionality and accessibility. Even with a shelf in the middle, most cabinets are full of lots of space that simply can't be used conveniently, which is exactly why many homeowners are starting to abandon this conventional design entirely. Tall, thin cabinets mounted on full extension glides are much more usable, since they ensure that everything inside will be easily accessible. They can also be designed to fulfill a specific purpose (like housing utensils or sheet pans, for example), or custom made to fit a specific space. The latter is particularly invaluable in a small kitchen, because it makes it possible to add storage to any odd shaped or unusually placed space that isn't big enough to accommodate a traditional cabinet. Swapping cabinets for oversized drawer storage has also become a popular option, as they make it possible to store more items in less space.
For a more in depth look at some of the more unique and innovative options for renovating the cabinets in a small kitchen, check out the full article here.
HomeThangs.com is not only a home improvement superstore, it also provides expert design tips and a comprehensive shopping guide, taking the ideas from professional interior designers, and offering tips to the consumers on how to pick the products to best suit their needs.