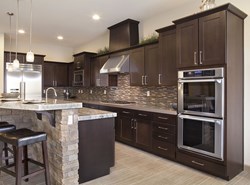 'Our decision to carry the Aspect bath and kitchen cabinet line was in response to our client's feedback. A custom made in the USA, quality wood cabinet, with a lower price tag than the luxury lines,' said Dave Cristarella of Avanti Kitchens and Granite
Canton, Michigan (PRWEB) February 12, 2014
Avanti Kitchen and Granite, a full service bath and kitchen remodeling contractor, designs, builds and installs custom cabinetry and granite and stone countertops for homeowners and general contractors in the metro Detroit area and throughout Michigan. In addition to its luxury cabinetry lines, now Avanti distributes and installs Aspect Cabinetry, a sensible cabinetry choice that delivers both quality and value.
When it comes to remodeling the kitchen or bath, consumers have a variety of choices, from off the shelf cabinetry to more custom cabinetry lines available from the large retailers. However, for the more discriminating but still budget wise consumer, the choices are somewhat limited. The new made to order line from Aspect Cabinetry fills the gap between a mass produced cabinet and the top of the line, luxury cabinet.
A kitchen or bath remodeling project is an expensive, time consuming endeavor. Finding the kitchen or bathroom cabinets that have the right aesthetic, design features and quality is a challenge. Relying on the big brands is not always a wise financial decision. Smaller manufacturers like Aspect Cabinetry, often offer more design options, a higher quality cabinet and also better pricing than the large, ubiquitous brands.
A family owned company with a long tradition in cabinet making, Aspect Cabinetry skilled workers manufacture all cabinets in the USA. Built from quality woods and materials, Aspect Cabinets are more like furniture; still, a controlled manufacturing process assures the quality you'd expect from a more expensive brand.
"Our decision to carry the Aspect bathroom and kitchen cabinet line was in response to our client's feedback. A custom made in the USA, quality wood cabinet, but with a lower price tag than the luxury lines," said Dave Cristarella, owner and general manager of Avanti Kitchens and Granite.
However, getting the brand right is just one part of the kitchen remodeling or bathroom design experience. Ease of ordering, delivery and installation are also important to the consumer. This is where remodeling contractors like Avanti Kitchens and Granite have a definite advantage over their larger counterparts. An easier shopping experience, more personal attention, faster delivery times and more experienced installers, make consumers generally more satisfied when choosing a smaller contractor.
"As a small local business, customer satisfaction is not something we do as a job. For us, it's genuine... we take pride in the work and spaces we build for our clients. Being smaller, working with smaller manufacturers, also has its advantages. The cabinets we sell are not mass produced. Thus, if we need a door, or a whole kitchen, they can be manufactured on demand. That gives us better control over delivery times and possible mishaps," said Dave.
"In cabinetry, more consumers are moving from mass produced to true craftmanship, from made in China to locally made, from formaldehyde soaked particle board to environmentally friendly. By distributing cabinetry lines like Aspect, we support that trend. At the same time, by choosing Aspect from Avanti, our customers augment another important trend - supporting the local small business and Michigan communities," added Dave Cristarella.
About Aspect Cabinetry: Aspect Cabinetry is built by W.W. Wood Products Inc, a family-owned company since 1977, located in Dudley, Missouri. Aspect Cabinetry is manufactured in a 1.2 million square feet facility with state-of-the-art equipment, for competitive pricing and quality control. Every cabinet is built-to-order by a skilled labor force, treated like furniture and shipped to the dealer. Aspect Cabinetry is sold exclusively through a network of authorized dealers.
About Avanti Kitchen and Granite: Avanti Kitchens and Granite designs, builds and installs custom cabinetry and stone and granite countertops. Avanti works with residential and commercial customers in the Metro Detroit Area and throughout Michigan, to help them move beyond the ordinary and create their dream kitchen and bath. Avanti is a distributor and installer of Plato, Crystal, Shiloh and Aspect Cabinetry, as well as a manufacturer of custom stone products, including quartz, marble and granite countertops, stone fireplaces, architectural details, lime stone exteriors and more.
To learn more about Avanti Kitchens and Granite and their products, please visit Avanti website at http://AvantiKitchensandGranite.com, or call (734) 453-7700.