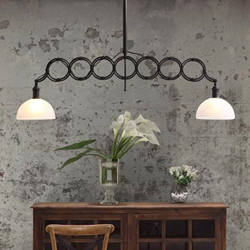 Old fashioned warehouse style lighting fixtures bridge the gap between traditional and modern, offering a more down to earth antique look and feel.
(PRWEB) January 01, 2014
HomeThangs.com – the Online Home Improvement Store – has made it their goal to deliver the right product to the consumer. With that in mind, shopping and home design tips as well as special product selections are being introduced.
For a long time, petite pendant lights were all the rage in kitchen design. Lots of small, cafe style pendants provided plenty of light and a restaurant-style ambiance. But trends are starting to shift toward bigger, bolder lighting fixtures. The area over a big kitchen island is particularly ideal for a hefty statement light, and industrial and farmhouse style fixtures fit the bill to a T. HomeThangs.com has introduced a simple guide to these fixtures, which work equally well in a modern or traditional kitchen.
In recent years there's been a bit of a backlash against the trend toward a more modern kitchen. Homeowners prize the convenience of a more contemporary design, but have begun to shy away from the ultra-chic, sometimes sterile look of a very modern kitchen. To bridge the gap, many designers are turning to a different kind of antiques: practical old fashioned designs, like oversized warehouse and farmhouse style lights that date back to the late 1800s and early 1900s. These are big, bold, and old, with weathered metal finishes, antique bulbs, and often whimsical designs that make them function beautifully as statement pieces.
What these old fashioned lighting fixtures do especially well is bridge the gap between traditional and modern. Many homeowners these days are opting for a middle-route transitional kitchen, and old warehouse style lights have both that rustic, antique flair and enough modern edginess that they don't look overly ornate or outdated. Industrial style furniture - including kitchen lights - offers a more down-to-earth antique look and feel that's more charming than elaborate, and certainly more practical.
In fact, factory style lights are especially great for a kitchen island because they not only provide the big, bold style that's so popular right now, but they also make excellent task lighting. Many industrial style fixtures are very mobile, fixed on a pulley system or with retractable or extending arms that allow the lights to move with just a touch, switching seamlessly between close up task lighting and the more conventional all-over ambient lighting.
There are two main ways that big industrial style lights work as a statement piece in a large kitchen. The first is simply by virtue of their size: even a very simple, farmhouse style barn lights with big, domed metal shades stand for their sheer hugeness. They're hefty and bold, showcasing an antique metal finish and a very simple, classic design that evokes a homey, country farmhouse feel without a lot of ornamentation. More industrial, warehouse style lights tend to be a little more complicated in their design, with pulleys, scissor arms, counterweights, and accordion style frames, giving them a whimsical appearance that makes for a great centerpiece and conversation starter.
The most important part of this trend is to find a lighting fixture that has a little weight to it, and that doesn't necessarily mean opting for an industrial style antique, though getting that hybrid contemporary classic look may be a little more difficult. Hefty wrought iron pieces rather than stainless steel can give a lighting fixture a more assertive presence, while even a lightly distressed finish can give it a little bit of that sense of age. Many industrial style lights have very complex designs, but it's important to note that this isn't strictly necessary: broad, assertive strokes can be just as attention grabbing, and almost any hefty, assertive lighting fixture can work as a focal point for the kitchen.
HomeThangs.com is not only a home improvement superstore, it also provides expert design tips and a comprehensive shopping guide, taking the ideas from professional interior designers, and offering tips to the consumers on how to pick the products to best suit their needs.