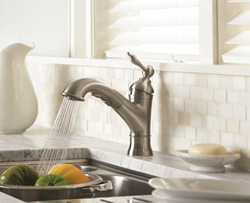 Granite is still at the top of most homeowners' must-have lists for a major kitchen remodel, to the point that many are upgrading their counter tops even if they aren't in it for a more extensive renovation.
(PRWEB) December 31, 2013
HomeThangs.com – the Online Home Improvement Store has made their goal to deliver the right product to the consumer. With that in mind, shopping and home design tips, as well as special product selections are being introduced.
Designing a dream kitchen can be hard enough without trying to predict how well a certain style will hold up in years to come. But having a little knowledge of what's hot right now (and which trends are on their way out) can help squeeze a little more mileage out of a remodel. HomeThangs.com has introduced a guide to some of the most desirable features to make it easier to know where to splurge and where to save to get the biggest possible update for any budget, whether that means a major renovation or a quick facelift.
Transitional Kitchen Design
Transitional kitchens have soared in popularity as a sort of middle ground between modern and traditional designs. These have the same clean lines, simplicity, and efficiency of a modern kitchen, but still have a softer, more classic appeal. French country and farmhouse styles and shaker style cabinets are especially popular for their down to earth, simple traditional style, which is casual enough for a contemporary kitchen, but still has that touch of old world class.
White Kitchens
White kitchens are an American staple, and this kitchen trend isn't going anywhere. All white cabinets are a great way to make a kitchen look bright, open, and clean. They can also be easily dressed up or down, specifically by pairing them with different counter tops, hardware, and other accessories, making this a versatile enough choice for just about any style kitchen.
Granite Counter Tops (Or Solid Surface)
Granite is still at the tip top of most homeowners' must-have list for a major kitchen remodel, to the point that many are upgrading their counter tops even if they aren't in it for a more extensive renovation. That said, solid surface counter tops are becoming a popular alternative. These are made of a composite stone material – typically quartz – that's resistant to heat, stains, and moisture, and is available in a wide variety of colors and patterns, from ones that look like stone to bright, bold solid colors.
Matte Finishes
Probably the simplest and most straightforward kitchen trend right now is that chrome finishes have gone out of vogue. Except in the most modern of kitchens, bright, shiny, reflective surfaces are out, while all variety of matte finishes are in. From brushed nickel to oil rubbed bronze and even satin-finished stainless steel, a subtler, less reflective surface is preferred on all types of hardware, especially the kitchen faucet.
Oversized Statement Lights
Kitchen lighting is no longer purely about utility. The area over a kitchen island is prime real estate for a bold statement light, and homeowners are ditching the petite pendant lights of yore in favor of bigger, more assertive lighting fixtures. Hefty industrial style lighting fixtures – like antique pulley lights or big barn lights – are especially popular, as they fit well with that transitional, classic-yet-practical kitchen style that's so popular right now.
Hand Scraped Hardwood Floors
Hardwood floors are back in a big way, and are fast becoming a must-have item for a luxury kitchen remodel. Hand scraped or other textured or weathered hardwoods are especially popular right now, as again they work really well with that reclaimed industrial/farmhouse vibe. Look especially for wood tones that are either very light or very dark, and avoid most mid-tones. For families that are too rough on floors for hardwood, consider opting for wood print porcelain tile. These are printed with high definition images of weathered wood planks to look just like the real thing, but offer much greater durability.
To see some of these kitchen trends in action, check out the full article here.
HomeThangs.com is not only a home improvement superstore, it also provides expert design tips and a comprehensive shopping guide, taking the ideas from professional interior designers, and offering tips to the consumers on how to pick the products to best suit their needs.