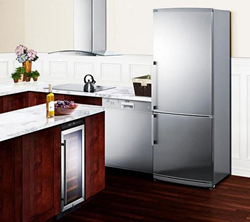 On a very limited budget, focusing on improving storage and utility is a great way to make a kitchen more enjoyable to use, if not necessarily better looking.
(PRWEB) October 29, 2013
HomeThangs.com – the Online Home Improvement Store has made their goal to deliver the right product to the consumer. With that in mind, shopping and home design tips, as well as special product selections are being introduced.
Right now, having an up-to-date kitchen is one of the most desirable features in a home. But getting an open floor plan and all the modern conveniences doesn't come cheap – to say nothing of some of the high end, luxury items often featured on home design shows. But a limited budget isn't a kiss of death for a kitchen remodel. HomeThangs.com has released a guide to budget friendly improvements that can make a big difference in the look and feel of a kitchen without any major construction or a big bottom line.
1. Sink And Counters
One of the most significant ways to enhance the value and appearance of a kitchen is to replace outdated laminate counter tops with a more luxury material like granite, wood, or stainless steel. Now, this is probably the biggest investment on this list, but it also has an excellent rate of return. Adding a high end kitchen sink – either as part of a counter replacement or on its own – adds both utility and style. A distinctive sink like a fireclay apron sink, or zero radius stainless steel sink, can even set the tone for the whole renovation.
2. Cabinets And Storage
The kitchen cabinets are the single most prominent feature in any kitchen, so if they're out of date, chances are, the rest the kitchen is, too. For homeowners with a limited budget, replacing the kitchen cabinets is almost certainly out of the question. But refacing the cabinets or even just painting them is much more affordable, and gives a similar result. For a very limited budget, focus instead on improving storage in the existing cabinets, like adding pull out drawers or shelves. It may not do much for the outward appearance, but it'll make a big difference in the usability of the kitchen, which is sometimes even more important.
3. Knobs and Pulls
No budget-friendly-kitchen-update list would be complete without this one tried-and-true entry: knobs and pulls. But this oldie-but-goodie is oft-repeated for a reason; while it might seem like a small swap, changing out the hardware on a set of kitchen cabinets goes a long way towards making them look more up to date. Look for pulls that have a very different appearance, but that have installation holes the same distance apart as the current hardware to ensure a one-to-one swap with no unsightly holes.
4. Backsplash
Similarly, installing a new mosaic tile backsplash is one of the great, inexpensive ways to dress up a kitchen. Mosaic tile sheets are common, cheap, and amazingly easy to install, and even a basic model creates a lovely, colorful accent. Backsplashes are currently trending a little taller than the conventional 4″ – the taller the better – and ones that go all the way up to the upper cabinets lend texture to the whole kitchen for just a few dollars per square foot.
5. Lighting
Having good lighting really makes a huge difference: a dark kitchen will feel small and – worse – dirty, while obviously old lighting fixtures can make the space look dated. New fixtures are easy and relatively inexpensive to install, and can give new life to a kitchen solely by brightening it up. Under cabinet lighting is great, too, as it can help eliminate shadowy counter tops and draw attention to a decorative backsplash.
6. Kitchen Islands
Kitchen islands are one of the hottest features in luxury kitchen design, but while the ones featured on design shows are often huge, sprawling, and custom made, a petite, pre-fab kitchen island can work just as well or even better in a smaller kitchen. Of course, the size of the island should match the space, but strategically placing an island in the center of a work triangle of any size can dramatically improve usability of the kitchen.
7. Appliances
Now, appliances don't come cheap, and the nicer the appliance, the more expensive it's going to be. But appliances take up almost as much space in the kitchen as the cabinets, so obviously outdated ones can bring down a whole kitchen. Swapping to a neutral black or white or a more modern stainless steel can instantly overhaul the whole space. Replacing very old appliances with new EnergyStar and WaterSense rated ones can even help lower monthly utilities.
To see more of these upgrades in action, check out the full article here.
HomeThangs.com is not only a home improvement superstore, it also provides expert design tips and a comprehensive shopping guide, taking the ideas from professional interior designers, and offering tips to the consumers on how to pick the products to best suit their needs.