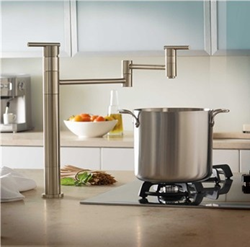 For those who make stock or soup or do a lot of canning, adding one of these simple, odd little faucets can make a world of difference.
(PRWEB) March 08, 2014
HomeThangs.com, the online home improvement store, has made their goal to deliver the right product to the consumer. With that in mind, shopping and home design tips, as well as special product selections are being introduced.
Pot fillers may not seem like the most practical addition to a kitchen. After all, they don't do anything that a regular kitchen faucet can't. But for avid home cooks and especially those who can their own food, having a secondary faucet located near the kitchen stove can actually be a really helpful convenience. HomeThangs.com has introduced a simple guide to who would benefit the most from this unusual kitchen faucet.
Cooking pasta for one is easy, but the larger the crowd the bigger the pot – and the more water – the job requires. Big pots full of water can be very, very heavy. This is the exact problem that pot fillers solve, making it possible to fill large pots with cold water while they're already sitting directly on the stove.
For most people, this is nothing terribly revolutionary, and something that might not even be used very often. But for those who make stock or soup or do a lot of canning, adding one of these simple, odd little faucets can mean not having to carry a heavy pot from the kitchen sink to the stove, or even wait for the pot to fill in the sink. The folding arm of the pot filler positions the spout directly over the pot, and it can be left to fill on its own.
Pot fillers can be either wall mounted or deck mounted, but the difference is largely cosmetic. Deck mounted pot fillers are small enough that they won't take up much counter space and are usually out of the way anyway, but require a hole to be drilled in the countertop. Wall mounted versions can be folded up and tucked a little farther back if space is a real concern, but will need to be installed into the backsplash, which often means removing at least part of it. A longer arm with more bends is more flexible, and can fill a pot sitting on any burner on the stove, while shorter ones may require the pot to be in a specific place. A filler with a single handle must be turned on and off at the wall, while ones with a second handle can be turned off at the spigot as well as the wall, affording a little more flexibility and control.
For those who make a lot of dishes where the water is the star ingredient - like soups and stocks or even tea or coffee – it might be worth installing a pot filler with an under cabinet water filtration system. These deliver crystal clear purified water on demand, and unlike at a kitchen faucet the majority of the filtered water won't be going down the drain.
The biggest drawback of installing a pot filler is that they have to be connected to a main water line. That can mean passing through cabinets, under the floor, or even up through the basement, and it's very rare to be able to do that without at least a little demolition. That said, when incorporated into a larger project, installing a new pot filler is simple, fairly affordable, and adds a beautiful, unique luxury touch to the space.
HomeThangs.com is not only a home improvement superstore, it also provides expert design tips and a comprehensive shopping guide, taking the ideas from professional interior designers, and offering tips to the consumers on how to pick the products to best suit their needs.