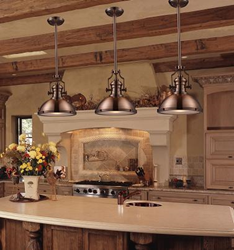 Lantern lights come in a wide variety of styles and variations, and many regionally and historically distinct designs are a perfect way to set the tone for a very specific kind of kitchen decor.
(PRWEB) September 24, 2013
HomeThangs.com – the Online Home Improvement Store has made their goal to deliver the right product to the consumer. With that in mind, shopping and home design tips, as well as special product selections are being introduced.
Maybe more than any other room in the home, the kitchen is one space that often winds up reflecting the personalities of the people that use it. Big, luxury kitchen remodels have become hugely popular in home design, and more often than not they come with a few custom touches – whether it's specialty kitchen cabinets or a custom counter top or backsplash. But one of the best ways to personalize any type of kitchen is with decorative lighting fixtures. HomeThangs.com has introduced a guide to using trendy lighting fixtures to establish a distinctive kitchen decor.
Farmhouse style kitchens are one of the most popular new trends right now, and with them, farmhouse style lighting has made a big comeback. Farmhouse lights come in several different forms, but some of the most distinctive are barn lights. These have metal shades that look a little like the tops of old fashioned milk cans, and are modeled after fixtures used on the working parts of farms around the turn of the century. These add a great, traditional vibe to the space, and come in a wide variety of metal finishes to easily coordinate with the rest of a kitchen's decor.
Turn of the century industrial style lights in general have become quite popular for adding a slightly more urban vibe to a farmhouse style kitchen. Pulley lights and other lighting fixtures inspired by those used in turn of the century factories and warehouses are equal parts gritty and whimsical, with designs that seem positively fanciful, but are made of practical, sturdy materials. These offer a nice way to add a professional, industrial air to a more traditional kitchen, and make a nice counter point to the very modern commercial style kitchens that have become so popular in recent years.
Lantern lights are another very popular option right now, and not just in traditional farmhouse style kitchens. Lantern lights come in a wide variety of styles and variations, and many regionally and historically distinct designs are a perfect way to set the tone for a very specific type of kitchen decor. Traditional lantern lights will work with just about any turn of the century inspired style, but railroad style hurricane lantern lights, maritime lanterns, carriage lanterns, and so on can all help accentuate a home's history and architecture.
For a more modern look, keep an eye out for something simpler, sleeker, and more geometric. Most decorative lighting fixtures would look out of place in a very modern, minimalist kitchen, so focus on models that use simple, bold lines and obvious shapes. Bold, black lines set on a white background creates the most striking contemporary vibe, while straight lines and sharp angles pair well with a minimalist decor. For a more ornate modern decor, look for less traditional island lights that break out of the mold, like gyroscopic or mobile-like circular lighting fixtures, or other bold and unconventional designs.
Since kitchens have become a luxurious rather than a purely utilitarian part of the home – and as floor plans have become more open and integrated – even decorative chandeliers have become more popular in kitchen design. These can be placed over an in-kitchen dining table or kitchen island and add an undeniable touch of elegance and sophistication to the space.
For more ideas, read the full article here.
HomeThangs.com is not only a home improvement superstore, it also provides expert design tips and a comprehensive shopping guide, taking the ideas from professional interior designers, and offering tips to the consumers on how to pick the products to best suit their needs.