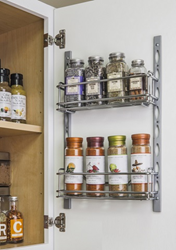 Adding a really basic, just-put-it-in-there, no-installation storage rack can actually make a huge difference in the most problematic kitchen cabinets.
(PRWEB) April 02, 2015
HomeThangs.com – the Online Home Improvement Store has made their goal to deliver the right product to the consumer. With that in mind, shopping and home design tips, as well as special product selections are being introduced.
Organizing a kitchen can be a major undertaking; the smaller the space, the bigger the challenge. The good news is, there are a few smart and easy ways to make something from nothing – that is, to turn unused and overlooked parts of the kitchen into functional, accessible storage spaces, or even just streamline and improve the space that's there. The first part of HomeThangs.coms new series on small kitchen storage focuses on simple, easy to install racks and organizers that inconspicuously add functionality without getting in the way.
Short of a major renovation, the best way to improve the functionality of a small kitchen is to choose kitchen organizers and add-ons that work well with the existing space. Ideally, small organizers should fill up wasted spaces and make them usable. The empty space between the bottom of the upper cabinets and the top of the counter, the insides of cabinet doors, and the dead zones inside cabinets (the highest few inches in the top, or the last few inches way in the back, for example) are all prime areas where empty space exists but isn't being used. Adding simple racks, bars, or organizers instantly transforms these spaces, both adding storage where there was none and often making items more accessible, too.
For an in-depth look at a few simple kitchen organizers that can be installed quickly and work beautifully, check out the full article here.
HomeThangs.com is not only a home improvement superstore, it also provides expert design tips and a comprehensive shopping guide, taking the ideas from professional interior designers, and offering tips to the consumers on how to pick the products to best suit their needs.