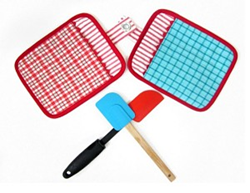 The article introduces to people simple yet unique kitchen safety tips that allow them to avoid kitchen fires effortlessly.
Seattle, WA (PRWEB) February 27, 2014
The new "Kitchen Safety Tips" report on the website Vkool.com covers useful techniques on how to prevent common accidents in the kitchen area. At the beginning of the report, people will discover some common kitchen accidents, such as cuts from knives, burns from heat, dropping things, spilling foods, burning foods by over cooking. After that, the article indicates that the most common fires happen from people leaving food on the stove unattended. Therefore, people should not leave the kitchen when frying, grilling or broiling. The author recommends people to turn off the stove and take their pans and pots off the heat if they have to leave the kitchen. If people are simmering, roasting, baking, or boiling food, they should set a timer to remind them to check it regularly. This report also points out that long, flowing sleeves, large-fitting shirts may catch fire. Thus, when cooking, people should wear short or close-fitted sleeves and keep their baggy shirts tucked in. Moreover, people need to keep other things that could catch fire, such as towels, potholders, food packages, away from heat. In the article, the author advises readers to keep their children away from appliances when cooking. In order to avoid accidents in the kitchen, people should read instructions that come with appliances carefully. They should not use an appliance that has a frayed cord. Furthermore, they should keep electrical appliances away from water because water can damage the motors in electrical appliances like refrigerators and freezers.
In addition, the article uncovers that one of the most common kitchen injuries is damage to the skin from hot liquids, including grease, hot water, or other substances. In fact, keeping the flame at a reasonable level will help people avoid splatters burns when frying food. When people have a small burn, they should put their injury under cold water for as long as possible. Actually, the cold water will cool the skin and stop the burning from causing more damage to the skin tissues. In other words, the article covers innovative home organizing techniques that allow people to organize their house effectively. Thanks to the helpful tips in the "Kitchen Safety Tips" report, a lot of people can prevent kitchen common injuries easily with just a few simple steps.
Nguyen Hung from the site Vkool.com says that: "The Kitchen Safety Tips" report is really informative and includes various tips to prevent kitchen fires efficiently. Additionally, the tips delivered in this article are easy-to-apply for most people."
For more details from the full article, people should visit the website: http://vkool.com/kitchen-safety-tips/
__________________
About the website: Vkool.com is the site developed by Tony Nguyen. The site supplies people with techniques about different topics, such as fitness, health, entertainment, business, and lifestyle. People can send their ideas to Tony Nguyen on various topics via email.