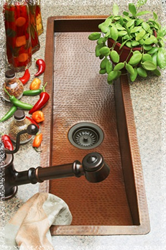 Installing a trough sink in the middle of a kitchen island allows multiple people to prep food simultaneously without competing for sink space.
(PRWEB) May 27, 2014
HomeThangs.com – the Online Home Improvement Store has made their goal to deliver the right product to the consumer. With that in mind, shopping and home design tips, as well as special product selections are being introduced.
Many homeowners are starting to install a second kitchen sink. Having two sinks simplifies many tasks in a very large kitchen, and makes it possible for more than one person to do prep work or dishes comfortably at the same time. For those stuck choosing between adding a second full sized sink or a petite bar or prep sink, HomeThangs.com has introduced a guide to a third option: a trough sink.
Trough sinks are long, narrow sinks that slope towards a drain, either in the middle or at one end or the other. These sinks are only about as deep as a prep sink, so they aren't a great choice for washing dishes, but because they're so much wider than the average prep sink (and in some cases even wider than a standard kitchen sink) they're perfect for multiple people doing prep work side by side.
When installed in the middle of a kitchen island, a trough sink turns the whole surface into a usable prep space, as it can be accessed easily from all sides. This is a great setup for a family that cooks together as it allows multiple people to work at the same time without competing for sink space. Better still, even though a very long trough sink might take up the whole center of the island, they're narrow enough that they won't get in the way of anyone sitting and eating on either side.
For a very large kitchen island, placing a slim sink down the middle might not be viable because the counter may be large enough that people won't be able to reach the sink comfortably from either side. If that's the case, installing a trough sink crosswise along the narrower part of the island can also be quite useful, as the sink can be accessed by one person on either side as well as from one end. This is especially nice in a very large kitchen, where it can be inconvenient to walk all the way around the island to get to the main sink.
Trough sinks are great for entertainers, too. A trough sink filled with ice is the perfect place to stash canned or bottled drinks for a party: the drinks are chilled and in an easy-to-reach spot, and as the ice melts, it simply drains away, no muss, no fuss. This can be a nice alternative to (or addition to!) a wine refrigerator or beverage cooler, as it's an amazingly simple way to keep a decent number of drinks close at hand and ready to serve.
Most trough style sinks are perfectly straight, but there are models out there with a little curve to them. These are great for slightly smaller or less conventionally shaped kitchen islands, and work particularly well when placed at the far end of a kitchen island so it can be accessed from three sides. While these might not be the same kind of centerpiece that straight trough sinks are, they do make for a much more accessible prep area without taking up much more of counter space than a standard bar sink.
Trough sinks also come in much smaller sizes, and these make a great alternative to a more traditional bar sink. Their rectangular shape gives them a stylishly unconventional look and somewhat more versatile footprint than the average squat square or circular bar sinks. Because they're so narrow, they take up very little space, which means it's possible to add basic functionality just about anywhere in the kitchen.
To find out more about these unique sinks, check out the full article here.
HomeThangs.com is not only a home improvement superstore, it also provides expert design tips and a comprehensive shopping guide, taking the ideas from professional interior designers, and offering tips to the consumers on how to pick the products to best suit their needs.