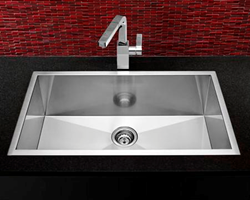 Zero radius kitchen sinks offer a sleek modern appearance, but can be a bit more difficult to clean than traditional sinks, especially as they age.
(PRWEB) September 10, 2013
HomeThangs.com—the Online Home Improvement Store—has made their goal to deliver the right product to the consumer. With that in mind, shopping and home design tips, as well as special product selections are being introduced.
Zero radius kitchen sinks are one of the hottest items in modern kitchen design, but despite how common they're becoming, and how distinctive they look, the term "zero radius" hasn't quite become common knowledge. HomeThangs.com now offers a full range of zero radius sinks, and has compiled a simple guide to getting to know these sleek, chic modern sinks, as well as a few pros and cons to installing one.
Zero radius kitchen sinks are essentially just very, very rectangular sinks. Most kitchen sinks are rectangular, but zero radius sinks are precisely rectangular with sharp 90-degree corners, perfectly straight edges, and perfectly flat bottoms, rather than the more conventional gentle curves and sloped sides. Though the difference may seem small, the straight, sharp, simple lines give zero radius sinks a sharper, more sophisticated appearance.
Many of HomeThangs' zero radius sinks are made of stainless steel and are designed to have a commercial feel that's perfect for a professional style modern kitchen. Not only do stainless steel sinks match well with stainless steel appliances but they provide a very large basin just like sinks found in restaurants. Paired with a professional grade kitchen faucet, these sinks can stand up to very rough use and can handle a very high capacity for food prep or dish washing.
HomeThangs.com also offers zero radius and near-zero radius kitchen sinks in a variety of other trendy materials, like Silgranit. These are available in a wider variety of colors and are a little quieter than stainless steel sinks. They also produce a slightly warmer look than steel, and offer a great middle-of-the-road option for a kitchen that's more contemporary than cutting-edge modern.
For more information about zero radius sinks, and to find out some common pros and cons of installing them, read the full guide here.
HomeThangs.com is not only a home improvement superstore, it also provides expert design tips and a comprehensive shopping guide, taking the ideas from professional interior designers, and offering tips to the consumers on how to pick the products to best suit their needs.