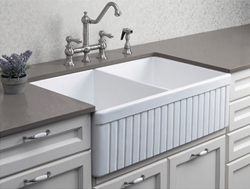 Despite granite's long-standing popularity, several natural, synthetic, and recycled materials are starting to become more common, especially in environmentally conscious kitchen renovations.
(PRWEB) February 21, 2014
HomeThangs.com – the Online Home Improvement Store has made their goal to deliver the right product to the consumer. With that in mind, shopping and home design tips, as well as special product selections are being introduced.
For many years now, granite has been the material of choice for kitchen counters. But while granite remains a popular choice, a few clear competitors are finally starting to emerge. HomeThangs.com has introduced a guide to several alternatives that stand to match or surpass the popularity of granite within the next few years.
Solid surface countertops are entirely synthetic and non porous, which means they don't need regular sealing, polishing, or any special cleaners. Solid surface is also one of the few material types that can be installed without any seams at all. It can be custom made to mimic a variety of natural materials (including stone), custom tinted a variety of colors, and even finished with different levels of gloss. Because solid surface counters are made of the same material throughout, small scuffs can be sanded out, but because it's softer than stone, this type of counter is susceptible to deep scratches and even scorching when exposed to high heat.
Quartz countertops are both highly durable and very low maintenance. Unlike granite, quartz countertops are nonporous, meaning they don't need to be sealed and are less likely to stain. They're also highly heat resistant, and sometimes contain an antimicrobal agent that makes them more hygienic. Quartz countertops are available in a huge variety of finishes, from natural stone patterns that mimic granite to bright, bold colors. They're more consistent in terms of pattern than granite, which eliminates slabs with undesirable markings but also means they don't have quite the same natural character.
Concrete has a very industrial look and feel, but can be cast in a variety of unique shapes and tinted or stained just about any color. This is an especially nice option for creating unique or odd-shaped kitchen islands. Unfortunately, concrete is very heavy, and will need strong cabinets to support it. Because it's a porous material, it will need to be thoroughly and regularly sealed to make sure it doesn't stain. That said, they're fairly heat resistant when sealed properly, and very durable.
Paper composite countertops are made of a combination of paper pulp (or other natural materials) and a hardening resin. These are a very eco-friendly option as they're made from renewable resources and have low or no VOC emissions. Paper composite countertops are similar in appearance to solid surface or laminate, but are much more heat, scratch, and water resistant. Some types are also designed to inhibit the growth of bacteria, but all types can be stained by acidic foods or liquids.
Old fashioned butcher block style countertops have a great natural look and feel that will warm up almost any space, and essentially turn an entire kitchen into a giant cutting board. Some types of wood are more resistant to bacteria and water than others, so it's important to choose carefully, and regularly disinfect the surface if it's used for food preparation. Small scratches can be repaired with a light sanding and application of mineral oil, but knife scratches will show and if left untreated will develop into a natural patina over time.
Soapstone has a medium-gray color with some occasional white veining, but will darken to a deeper gray-black as it ages. Soapstone is a slightly more rustic type of stone, with a coarser, less glossy finish than granite or marble, but is highly heat resistant and won't stain. That said, the rough finish can scuff glassware or china, and because it's also a softer stone than granite or marble, it's particularly susceptible to scratches and scuffs, and needs regular applications of mineral oil to properly maintain its finish.
Stainless steel countertops offer very practical workspace that's resistant to heat, bacteria, and staining. Like ones used in professional kitchens, these are very durable and very easy to clean, but can show some dints and dings, scratches, and fingerprints. Stainless steel offers the most contemporary look of any of these materials, and can be designed with a very modern integrated kitchen sink.
Made of small pieces of recycled glass held together with concrete, recycled glass counter tops have a colorful, speckled appearance, but are perfectly smooth and very hard. Recycled glass countertops are fairly comparable to granite in terms of maintenance, but are more eco friendly. The surface is also less porous, which makes glass counters less likely to stain and slightly more heat resistant. Recycled glass countertops are resistant to scratching, but can chip or crack if they have something heavy dropped on them.
To see some examples of these beautiful countertop options, check out the full article here.
HomeThangs.com is not only a home improvement superstore, it also provides expert design tips and a comprehensive shopping guide, taking the ideas from professional interior designers, and offering tips to the consumers on how to pick the products to best suit their needs.