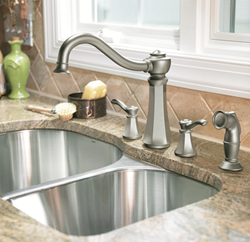 With a few exceptions, the new faucet should be a fairly direct replacement for the old one, at least in terms of size and shape.
(PRWEB) March 07, 2014
HomeThangs.com – the Online Home Improvement Store has made their goal to deliver the right product to the consumer. With that in mind, shopping and home design tips, as well as special product selections are being introduced.
A really great faucet is the centerpiece of every well designed kitchen: it's prominently placed, frequently used, and the perfect finishing touch to underscore the overarching style of the space. Best of all, kitchen faucets can easily be replaced without a major kitchen remodel. That said, replacing a faucet without replacing the sink or countertop comes with its own challenges. HomeThangs.com has introduced a guide to a few features to pay attention to, to make sure the new faucet works with the existing kitchen.
The size and shape of the existing faucet is probably the single biggest limitation when it comes to choosing a new one, because the holes drilled for it in the sink and countertop can't be changed. With a few exceptions, the new faucet should be a fairly direct replacement for the old one; ensuring the distance between the holes exactly matches the new faucet is crucial to ensuring a good fit.
That said, the existing faucet holes aren't an ironclad limitation, at least when it comes to choosing a faucet that uses fewer holes than the current one. If the sink has more holes than the new faucet needs, most manufacturers will supply simple metal deck plates or round hole covers in the same finish as the faucet to cover them up.
It's also worth noting that the number of holes doesn't necessarily dictate the style of the faucet or even the number or type of handles it has. Faucets in all different installations can have one knob or two – even single post style faucets – and with the exception of bridge faucets (which have an unusual two-hole installation and are usually fairly traditional looking), most configurations are available in a huge range of styles and finishes.
It's also worth noting that kitchen sinks can have more than three holes: there are sinks out there that have four, five, or even six openings which can accommodate a variety of unique accessories, like a drinking water tap, soap pump, or a sink sprayer, which are great for streamlining and decluttering the sink area.
One thing worth considering regardless of the style of the faucet is how high tech it should be and what unique features it will have. Faucets with pull-down sprayers are becoming ubiquitous, and many homeowners are even upgrading to professional quality, restaurant style faucets with powerful, flexible spray nozzles. Many manufacturers are also starting to offer touch and motion activated faucets, which can be turned on and off hands-free.
Finally, it's important to consider the faucet in the context of the kitchen as a whole. It can be tempting to fall in love with a really trendy finish, but if it doesn't match the rest of the hardware in the kitchen, it'll never look quite right. So, either stick with something close to the existing hardware or, better yet, replace cabinet hardware at the same time to keep that unified look. Some really high quality finishes will be a little more expensive, but generally speaking a large difference in price between two faucets indicates a difference in construction quality; a higher price usually means the faucet is made of metal and ceramic rather than plastic, and it's often worth spending a little extra for a faucet made of better materials for the simple reason that it'll last longer.
For more tips on replacing a kitchen faucet, check out the full article here.
HomeThangs.com is not only a home improvement superstore, it also provides expert design tips and a comprehensive shopping guide, taking the ideas from professional interior designers, and offering tips to the consumers on how to pick the products to best suit their needs.