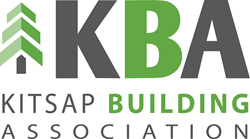 Kitsap Building Association – New Name Same Great Organization
Kingston, WA (PRWEB) May 11, 2016
Join the Kitsap Building Association (KBA) friends and members at Kingston Lumber Supply's open house and vendor party.
The Home Builders Association, or HBA, has long been known as the center of the Kitsap building industry. Its members are responsible for most of the residential and commercial development of our communities, and their members have volunteered their time and talents to many worthy causes.
However, those members have always been more than just 'home' builders. Now, the name reflects that.
Kitsap Building Association.
"Our name has changed," says Executive Director Teresa Osinski, "but really, we have always welcomed non-home builders as part of our membership. Anyone involved in construction in Kitsap relies on us for support, advocacy, and community connections. That will never change."
The Kitsap Building Association is an association of professional builders, subcontractors, service providers and purveyors representing the construction industry. The association provides information, education, and services that promote the health and welfare of the construction industry. As leaders of the industry, we foster safe, affordable housing, and promote economic development by advocating on behalf of the construction industry and the consumers that rely on it.
Kingston Lumber has been locally owned and operated since 1946. Offering materials for all phases of construction from the foundation through interior millwork, extensive product lines, and offer some exclusive items that will have your project standing out above the rest. Kingston Lumber Supply's number one goal is to offer you high quality service.
Register for this great event now -http://bit.ly/1QRQ9CV or by calling the KBA (360) 479-5778.
Date: May 12, 2016
Start Time: 4:00 pm
End Time: 7:00 pm
Address:
Kingston Lumber Supply
26343 Bond Road, Unit A-1
Kingston, WA 98346