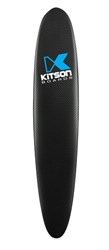 Kitson Boards utilizes the newest software and manufacturing technology to offer customers these high quality, ultra durable, lightweight boards at great prices—and is everything custom made.
Olympia, WA (PRWEB) July 31, 2013
The innovated carbon fiber custom paddle board and surfboard manufacturer, Kitson Boards, Inc., has cornered the market of ultra durable and ultra light boards.
With their move to a larger facility in early Fall comes the ability to greatly increase their production output. CEO Michael Kitson sees the opportunity to expand their brand in the market.
While their current production facilities are set up to meet the needs of individual custom orders, the company plans to integrate larger orders from retailers as soon as they have settled into their new offices.
Kitson sees this as an opportunity for those interested in becoming a part of what he refers to as the "Ferrari of paddle boards."
Kitson Boards is offering:
Class A Preferred shares (convertible to common shares)
Tax Free (1202C) on profits
Current share price $250.00
Limited to 4000 total preferred shares
Minimum investment $250.00 or 1 share
15% interest on invested funds
Estimated share value at the end of year five: $2,930.00
To request a detailed investment package contact: Renee(at)KitsonBoards(dot)com or call 360-878-9526.
*All investments contain risk.
Kitson Boards, Inc. is the sister company of AmazingUniverse.com Inc. which is responsible for Wine Rack Store.com and was founded by Michael and Denise Kitson. The Kitson Boards, Inc. headquarters is located in Olympia, WA. All boards are crafted out of the ultra durable and long lasting carbon fiber material. All production of surfboards, paddle boards and wakesurf boards, as well as the people behind the brand are based in North America and is the only board producer to do so. Kitson Boards prides itself on outstanding customer service and only the finest in recreational boarding and accessories. Free shipping is available throughout the continental USA.