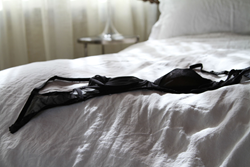 "First and foremost, I really try to ensure that the garments work for breast cancer survivors who have made all kinds of choices for their recovery"
New York, NY (PRWEB) October 01, 2015
Kitt Allan, Inc. announces the launch of its fall collection of luxurious lingerie, swimwear, and activewear with a Kickstarter campaign. The collection includes garments inclusive for all women with the needs of breast cancer survivors in mind and an attention to detail that has previously been overlooked in this market. The Kickstarter was fully backed in less than a week and will help to expand the collection, adding more styles, colors, and sizes as well as help reach more women.
"First and foremost, I really try to ensure that the garments work for breast cancer survivors who have made all kinds of choices for their recovery," says CEO and designer Kitt Allan. "Whether they have had a lumpectomy, mastectomy, have had partial or full reconstruction, wear a prosthetic, or are a supporter of the cause, the apparel is inclusive for all women."
Kitt Allan was diagnosed with breast cancer while four months pregnant; she discovered a lump in her left breast during a self-exam that was confirmed as stage two triple negative breast cancer. Her treatment was limited to chemotherapy and a unilateral mastectomy to save her life as well as the life of her unborn son, and reconstruction was not an option at the time. Two years later, when Allan was given the okay to have reconstruction, she was comfortable with her new body, however the lingerie and swim options for women wearing a prosthetic were unflattering and ill fitting.
"I was inspired to start this business and create garments for breast cancer survivors because I searched for years and really couldn't find anything that made me feel like myself," says Allan. "I thought it was completely possible to marry functional design that covered women's needs with really high fashion."
Technical designer Dominique Daniela shares, "Comfort is a huge issue in the fabrics we choose and placement of the trimmings, all of that comes into such detail and concern when designing."
Kitt Allan garments are all made in the U.S. using soft to the touch fabrics that include lace, organic cottons, and sustainable textile fibers. All of the bodysuits, bras and swim tops include carefully constructed pockets to accommodate symmetry shapers or prosthetics. The colors, patterns, and trims are modern and stylish, and 10% of every sale is donated to Living Beyond Breast Cancer (LBBC) and the Young Survival Coalition (YSC).
If 1 in 8 women are diagnosed with breast cancer in their lifetime (breastcancer.org), the needs of survivors should be addressed as a fundamental part of mainstream fashion design. Kitt Allan does not plan to stop here; there are millions of breast cancer survivors whose lives can be improved. Please share the campaign to help more women on their journey to wholeness.
About Kitt Allan:
Kitt Allan Inc. is a socially responsible company creating luxurious lingerie, swimwear, and activewear with the needs of breast cancer survivors in mind. All products are designed and manufactured in the United States using high quality fabrics and 10% of each sale is donated to breast cancer charities. For more information visit http://www.KittAllan.com