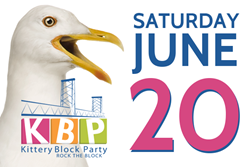 This year's entertainment schedule is the most robust roster of talent we've had in the event's history.
Kittery, ME (PRWEB) June 09, 2015
Saturday, June 20 - Kittery Block Party organizers announced that the United States Navy Band Northeast will headline the fifth annual Kittery Block Party (KBP) on Saturday, June 20 from 10 a.m. – 11 p.m.
Fresh off of performances at Fleet Week and the "Today Show" in New York City, the US Navy Band Northeast based in Newport, RI, will perform horn driven rock and swing starting at 2 p.m. under the main stage tent located in Wallingford Square.
Other acts to perform during the daytime festivities include The Dance Hall Kittery's African drummers, Irish step dancers, magician Peter Boie, country swing band The Seldom Playwrights and rock band The Little Amps. Local musician Melvern Taylor will emcee the daytime activities.
KBP Chairman Benjamin Lord says, "This year's entertainment schedule is the most robust roster of talent we've had in the event's history. The 2015 Block Party will be the best yet!"
Also scheduled for the KBP daytime lineup are the Northeast Buccaneers pirate troupe and stilt-walking robots from New Heights youth program. Over 100 vendors will be on site offering local arts and crafts, food, demonstrations, kids activities and games. The KBP also hosts the "5K@5" a road race starting at 5 p.m. from Post Office Square.
The second annual Foreside Music Fest kicks off at 7 p.m. and features a wide range of entertainment at six venues in Kittery's Foreside. All events are free to the public.
The Dance Hall Kittery, 7 Walker St: The Block's Got Talent – talent and variety show
Lil's Café, acoustic folk, 7 Wallingford Square: Connor Garvey, Caroline Cotter, Tristan Ormond
Folk, acoustic rock/jazz/funk, 7 Wallingford Square: Lisa/Liza, Jacob Augustine, Nat Baldwin
Anju, Electric, 7 Wallingford Square: Soul Church Dance Party
Doo, Hip-hop, 25 Government St.: Jamal Cooley and other local rappers
The Black Birch, 2 Government St.: Mother Superior and the Sliding Royales
Corner Pub, Rock, 4 Wallingford Square: Notches, New Legs
Second Christian Congregational Church, Rock, 33 Government St.: Elroy, The Connection
Rice Public Library, Poetry, 8 Wentworth St.: 5 Poets in the round
About Kittery Block Party:
Founded in 2011, the Kittery Block Party is a celebration of local art, culture and food that fosters lasting relationships and strengthens community in a family-friendly neighborhood atmosphere enjoyable for all ages. The easy-to-navigate Kittery Foreside plays host to vendor booths and entertainment from Government Street through Wallingford Square and up Walker and Wentworth Streets.
Detailed information can be found at http://www.kitteryblockparty.org