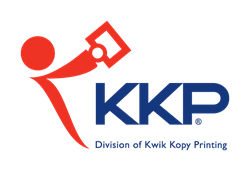 Toronto, Ontario (PRWEB) November 26, 2013
Printers and photocopiers can be the bane of office existence – they jam, they fail, and they remain consistently uncooperative. If there is one take away from the movie Office Space – it's this: Destroy it. Outsource your printing. Fight back!
KKP offers full business printing services to meet the needs of small, medium and large sized businesses. Businesses increasingly rely on KKP for their printing needs because with KKP comes quality, reliability and personalized service.
Businesses of all sizes are outsourcing their business printing needs, and turning to KKP. Unreliable office equipment is a source of unending frustration, and increasing costs for many businesses. KKP printing solutions take the stress of erratic office equipment out of the equation, and allow business owners and staff to focus on what matters most – business.
At KKP, employees can repeatedly be overheard saying "yes, we can do that!" and they mean it. No job is too big, too small, or too complex. All KKP clients, individuals and multi-national corporations alike, are treated as a priority, and provided with personalized service tailored specifically to meet their business needs. Whether it's Business Cards, Manuals and Reports, Brochures and Marketing Material, or Signage, KKP has decades of experience in print and design under their belt, and strive to exceed client expectations.
KKP is much more than a reliable, high-quality printing service. KKP is a trusted business partner! KKP can fully manage business print and design needs and provide professional, high-quality results.
But, what sets KKP apart from the crowd is client experience. KKP treats each client and project as their number one priority. With KKP, business owners can be confident that their printing needs are in trusted hands.
About KKP:
KKP (originally launched as Kwik Kopy Printing) was founded in Houston, Texas in 1969, and brought to Canada in 1979. The company has grown internationally to become the largest business-to-business printing franchise in the world, helping over 400 franchisees to start their own business in 12 countries.
Currently in Canada, KKP includes 59 locations coast to coast. National accolades include the top two awards by the Canadian Franchise Association: "Award of Excellence" and the "Hall of Fame". Other national marketing awards include: the "Excellence in Franchise Advertising" and the Gold "Ace Award."
For more information contact:
Gigi Harding
Email: gigiharding(at)kkpcanada(dot)ca
Phone: 416-798-7007
Visit: http://www.kkpcanada.ca/