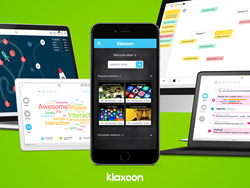 Klaxoon changes and simplifies the way people learn by making it daily, more interactive, and giving not only professionals and educators but also anyone of us an efficient, all-inclusive solution.
Austin, TX (PRWEB) March 11, 2016
Today, Klaxoon, an innovative company dedicated to creative learning tools, announces its presence at the South by Southwest Interactive festival in Austin, TX. During the event, Klaxoon will educate attendees on the future of learning and showcase its new interactive training solution helping any employee in businesses and educational institutions to share knowledge and support learning on a daily basis. Klaxoon will be available onsite at SXSW March 12-16; To schedule a press briefing, please contact Katie Foley (katief@lotus823.com).
Utilizing proven high retention interactive learning techniques, Klaxoon turns any discussion, meeting, brainstorming, conference call, seminar and of course classroom into a memorable and interactive knowledgeable experience. More than 30,000 users in 120 countries worldwide have already implemented Klaxoon tools to make training more efficient and friendly.
Klaxoon is the world's first collaboration and learning solution with dedicated connectivity. Its hardware solution, a CES 2016 Innovations Award Software and Mobile Apps Honoree, the KlaxoonBox, provides total autonomy holding everything needed for a successful collaboration session inside. An extension of KlaxoonCloud, Klaxoon's SaaS platform, KlaxoonBox ensures everyone can access Klaxoon everywhere whether online or offline.
Poised to disrupt the working space in the U.S., Klaxoon's cross-device platform is a collection of tools that facilitate interactivity:
Klaxoon Session allows users to simply plug in their content and be ready to offer simple, playful and effective activities to a group, including quizzes, surveys, challenges, brainstorming activities or live messaging. Designed to be used by 2 to 1000 participants, Klaxoon Session and its activities are a 100% responsive mobile-first solution.
Klaxoon Adventure gives users the opportunity to develop content for game sessions that allow employees to compete against one another by answering questions about the content.
Klaxoon Reports captures and saves all of the information from a session. The knowledge and informational exchanges from a meeting can then be easily shared with all participants and called up for future reference.
KlaxoonCloud allows users to connect up to 1000 participants at once, making local or remote meetings, webinars or in-class or virtual learning courses more efficient and friendly.
KlaxoonBox is the world's first learning solution with dedicated Wi-Fi connectivity. A private Wi-Fi connection for users and participants, this always-on connection allows for full control of data and guaranteed privacy. A Plug & Play solution, up to 100 participants can connect at any one time and its small size makes it easily transportable.
A subsidiary of Groupe Regards, a French leader in digital learning solutions, Klaxoon was created by leveraging Regards' innovative learning and training science. Two years of R&D alongside testing with top brands like L'Oréal, Schneider Electric, and Thales, has resulted in the solution available today.
Klaxoon is designed to be used on a daily basis, by everyone.
Klaxoon is accessible from any device (any smartphone, tablet or laptop running any OS) and requires no installation. For a free demo or to learn more, visit https://klaxoon.com/.
About Klaxoon
An offshoot of Groupe Regards, a leading French digital learning agency, Klaxoon is a startup dedicated to creating interactive learning tools for everyone. Founded in Rennes in 2014, it brings together 20 passionate collaborators from software developers to learning specialists determined to making everyone an expert. A testament to its success, the company already has more than 30,000 users in 120 countries. For more information, visit https://klaxoon.com/