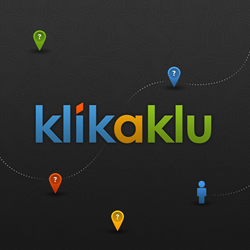 Kids love hunting for treasure, and they love their mobile devices. What a great combination to get them outdoors having fun!
Bellingham, Washington (PRWEB) July 15, 2014
To bring outdoor fun to the entire family this summer, Apple is promoting Klikaklu ("click a clue") for its exclusive Apps for Summer collection.
Klikaklu is designed to harness the thrill of the hunt to engage, instruct, and entertain. It uses unique technology that will lure kids off the couch, away from the game console, and into the real world for a lively and engaging experience.
With this recent promotion, Apple continues to consistently select Klikaklu as an outstanding app. Klikaklu is now featured in 15 places on the App Store, including "Best New Apps" in multiple countries, and "What's Hot" in Australia.
Here's how it works. One creates a hunt by snapping photos of interesting things. For each photo, Klikaklu creates a 'clue' that includes its location. For more spice, one can give clues hints, quizzes, and hidden rewards (text, images, or even short video clips). To play, one visits a clue's location and finds its target. Klikaklu uses image-matching technology to verify success, and then reveals the location of the next clue. Once finished, any reward hidden inside is unveiled. Hosts can also watch their hunters' progress to make sure they don't wander off (or arrive early for a surprise party).
"Families are finding the app a fun way to create memorable experiences," says Ken Cooper, Klikaklu's founder. "Who doesn't love hunting for treasure? Its flexibility makes it useful for so many things – parties, family reunions, hikes, Father's Day bike rides, road rallies, the dramatic unveiling of birthday gifts. Some have even successfully proposed marriage with it – we know of three yeses to date."
Ken Furie, Klikaklu's other founder, remarks on the power of the app as a parenting and educational tool. "As a parent, the key to staying sane is getting your kids to expend far more energy than you do, every day. Parents and teachers are embracing Klikaklu because wherever they go with children, there's now a way for the kids to play while engaging with their surroundings. It makes a game of discovery, bringing excitement to what otherwise might be ordinary."
Klikaklu may be downloaded free on the iTunes App Store. Those interested can learn more about Klikaklu's features and technology at http://www.klikaklu.com, or follow @klikaklu on Twitter.