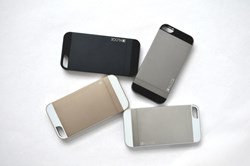 We wanted to create a case with the exact look and feel of the iPhone 5.
Chicago (PRWEB) January 31, 2014
A start-up design agency by the name of Unbranded recently created and launched on Kickstarter, KLOQE, an iPhone case that offers a sleek, minimalistic design, while being the only aluminum case that does not interfere with the iPhone's reception. Backers can own this one-of-a-kind, all-aluminum case through the 30 days KLOQE will be crowdfunding this campaign.
Sergio Troiani is the prodigy 19-year-old co-founder of Unbranded and the mastermind behind the KLOQE iPhone case. Troiani's main frustration was the fact that there were few metal cases on the market, and the few that there were all caused reception issues and dropped calls. He wanted a phone case that was sleek, classy and minimalistic, while allowing superior functionality.
"We wanted to create a case with the exact look and feel of the iPhone 5," Troiani states. "I believe we have done just that with KLOQE's all-aluminum minimal design, while also aiding in eliminating reception issues."
While in the process of prototyping, Troiani and his team developed a patent-pending design to attack the KLOQE reception issues, successfully perfecting the overall functionality of the product. Designed within the case is a .04 mm air gap between the side of the phone and the case, so metal on metal scratching is eliminated. In addition to standing above competition, KLOQE also offers outstanding durability with its premium quality aircraft-grade aluminum, and adds only 4 milimeters to the height and width of an iPhone, allowing for an aesthetically pleasing, minimal design.
KLOQE's Kickstarter project has a $25,000 funding goal on Kickstarter. There is an Early Bird incentive; the first 100 buyers can purchase the case for $89, while everyone else can purchase one for $99. The case, which fits both the iPhone 5/5s, comes in the full array of iPhone colors: black, grey, white, and champagne.
To view the KLOQE iPhone case, and to learn more about the Kickstarter campaign, visit http://bit.ly/KLOQEks, like KLOQE on Facebook, and follow KLOQE on Twitter.
About Unbranded
Founded in 2014 by Sergio Troiani, Unbranded is a start-up design agency. The company launched its first product, KLOQE on Kickstarter in January of 2014. KLOQE is the only metal iPhone case that mimics the popular phone's design without inhibiting cellular reception. To learn more about Unbranded, visit http://www.kloqe.com.