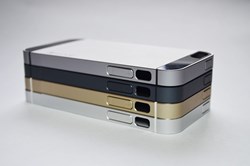 I knew I wanted to develop [a case] that would preserve the iPhone's beauty without inhibiting its functionality.
Chicago (PRWEB) February 11, 2014
KLOQE, the world's first all-aluminum iPhone case that doesn't affect reception, has now been on Kickstarter for over two weeks. Launched by Unbranded, a start-up design company, the case quickly surpassed its funding goal of $25,000, and the campaign continues to gain momentum.
Because it is a thin, aircraft grade aluminum casing engineered to mimic the design of the iPhone itself, KLOQE is intended to protect without compromising the sleek design of the phone. It adds only four millimeters to the width and height of the phone. Available in four colors (white, black, grey and champagne), KLOQE can match any new iPhone's color scheme.
"I love the iPhone's one-of-a-kind design," said creator Sergio Troiani. "When I went to get a case for my phone, I realized that all the metal cases consistent with the iPhone's design interfered with service. I knew I wanted to develop something that would preserve the iPhone's beauty without inhibiting its functionality."
Troiani, just 19 years old, invented KLOQE with no formal training in the design or computer fields. Still, he was able to adapt to various design and CAD programs with ease. Troiani and his design team went through a total of eight rounds of prototypes in order to find the perfect design that would not impede reception. The final patent-pending design ensures that no calls are dropped and consists of two parts that simply snap together over the iPhone.
KLOQE's community of backers continues to grow, but those interested in the campaign have until Sunday, February 23, to pre-order a case on Kickstarter. While they are quickly dwindling, a few "super early bird" slots are left to pre-order KLOQE for just $85. When all of those opportunities are gone, backers can still get KLOQE by pledging $90 or $99.
To view the KLOQE iPhone case, and to learn more about the Kickstarter campaign, visit http://bit.ly/KLOQEks, like KLOQE on Facebook, and follow KLOQE on Twitter.
ABOUT UNBRANDED
Co-Founded in 2014 by Sergio Troiani, Unbranded is a start-up design agency. The company launched its first product, KLOQE on Kickstarter in January of 2014. KLOQE is the only metal iPhone case that mimics the popular phone's design without inhibiting cellular reception. To learn more about Unbranded, visit http://www.kloqe.com.