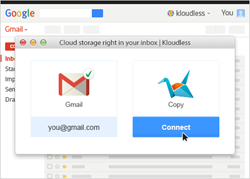 This streamlined cloud approach brought to market by Barracuda and Kloudless is exactly what businesses and users need - corporate control with user ease, all within their email inbox. -- Eliot Sun, Kloudless co-founder and CEO
San Francisco, CA & Campbell, CA (PRWEB) February 18, 2014
Kloudless (http://kloudless.com), the Berkeley-based company that brings the power of cloud storage to your email inbox, and Barracuda (http://barracuda.com) (NYSE: CUDA), a leading provider of cloud-connected security and storage solutions, today announced that Kloudless has been integrated with Copy™, a Barracuda service, allowing users to access and store files from within their email inboxes directly in their Copy account.
Kloudless provides simple, secure cloud access within the email inbox. Copy is a cloud-based file sync & share platform where users can easily store, protect and share data. This integration extends the Copy cloud functionality to Kloudless users and enables:

File sharing - Files users store and share with Copy can be accessed and emailed without the hassle of file attachments. Unlike email attachments with size limitations, Copy and Kloudless allow users to upload and email files of any size, including 1080p videos and photographs.
File access within email - Kloudless users can access designated files and folders in their Copy folder from within their email inbox.
Cloud storage - Kloudless users have the option of connecting with an existing Copy account directly from one of the Kloudless settings screens. Copy accounts provide 15GB of storage capacity free of charge, and users can license additional storage capacity directly from Barracuda.
Enterprise grade security - Bank-grade security (256-bit RSA encryption and SSL for all data in transit) protects Kloudless users' data as it is processed and transferred to the cloud storage locations designated by users. Internal and external firewalls, monitoring systems, intrusion detection systems and a dedicated Ops team handle system or security issues that may arise. Copy protects users' data with multiple layers of encryption including secure AES 256-bit encryption during transfer and while at rest on the Barracuda Cloud. Advanced features like secure sharing, source validation, identity verification and access controls give users more control over their cloud files.
Automation - Users can eliminate manual, repetitive actions by setting rules that allow Kloudless to file attachments into Copy. Rules can be customized by email sender, recipients and keywords; file name, type and size; or cloud service and folder.
Link insertion or deletion of moved attachments - Users can save email inbox space while maintaining the full context of the original email by replacing incoming files with safe, secure links.
Multi-browser, email service and cloud support - Kloudless runs on Chrome and Firefox web browsers within Gmail. Support for the Outlook desktop client is also available. Kloudless now supports Copy in addition to Box, Dropbox, Google Drive, Microsoft One Cloud (SkyDrive), Egynte, Bitcasa and SugarSync.
"Barracuda is focused on the customer experience and simplifying the way customers interact with their data," said Rod Mathews, GM Storage at Barracuda. "Customers want to be able to save, share and maintain valuable emailed content in a secure manner, and the Copy and Kloudless integration provides that functionality in a seamless, cost-effective way."
"For businesses to be able to effectively use online file sharing services, they have to be able to maintain control of the assets outside of their firewall, while working within a familiar context, the email inbox," said Eliot Sun, co-founder and CEO at Kloudless. "This streamlined cloud approach brought to market by Barracuda and Kloudless is exactly what businesses and users need - corporate control with user ease, all within their email inbox."
Pricing and Availability
Copy support from Kloudless is available immediately. Kloudless is available at no cost, on the web at Kloudless.com (http://www.kloudless.com) and by installing the free Chrome or Firefox extension (http://www.kloudless.com/download), and includes an optional 15GB of Copy cloud storage functionality at no additional cost. Kloudless users must register with Barracuda to obtain access to the Copy service.
Copy is available on the web at Copy.com (http://www.copy.com) and by installing the free software (http://www.copy.com/install). Copy also is available as a free app in the Apple App Store (https://itunes.apple.com/us/app/copy-for-ios/id546789632) for iOS devices and on Google Play (https://play.google.com/store/apps/details?id=com.copy) for Android devices.
Copy programs are subject to change at any time without notice by Barracuda Networks, Inc. Please visit http://www.copy.com for the current program details and terms.
About Kloudless
Founded by Cal alums and backed by prominent angel investors including David Sacks, founder of Yammer and Tim Draper, managing director of Draper Fisher Jurvetson, Kloudless is the best way to add your favorite cloud storage services to your email inbox. The company's products help users easily and securely work across many cloud services. It also helps companies gain visibility into cloud data ownership and control the data workflow across SaaS applications. Kloudless' product is being used globally across many industries. The company is headquartered in Berkeley, CA. Download at kloudless.com or follow us at http://twitter.com/kloudless and http://facebook.com/kloudless.
About Barracuda Networks, Inc. (NYSE: CUDA)
Barracuda provides cloud-connected security and storage solutions that simplify IT. These powerful, easy-to-use and affordable solutions are trusted by more than 150,000 organizations worldwide and are delivered in appliance, virtual appliance, cloud and hybrid deployments. Barracuda's customer-centric business model focuses on delivering high-value, subscription-based IT solutions that provide end-to-end network and data security. For additional information, please visit http://www.barracuda.com.
This press release contains forward-looking statements, including statements regarding the functionality and performance of Barracuda's Copy and SignNow products. You should not place undue reliance on these forward-looking statements because they involve known and unknown risks, uncertainties and other factors that are, in some cases, beyond the Company's control and that could cause the Company's results to differ materially from those expressed or implied by such forward-looking statements. Factors that could materially affect the Company's business and financial results include, but are not limited to, a highly competitive business environment and customer response to the Company's products, as well as those factors set forth in the Company's filings with the Securities and Exchange Commission, including under the caption "Risk Factors" in the Company's filings with the SEC. The Company expressly disclaims any intent or obligation to update the forward-looking information to reflect events that occur or circumstances that exist after the date of this press release.
Barracuda, Barracuda Networks, Copy, the Barracuda logo, and the Copy logo are registered trademarks or trademarks of Barracuda Networks, Inc. in the U.S. or other countries.