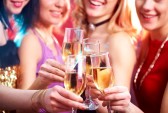 I think we just found ourselves a new market niche.
(PRWEB) July 01, 2013
President of KMG Gold Recycling, (O/A as KMG Gold Recycling) Michael Gupton is accustomed to receiving gold in the mail from cities and towns all over North America. He's also accustomed to a broad spectrum of people coming through the door of his well-known business on Academy Road in Winnipeg, with a plethora of precious metal for recycling.
What caught Gupton by surprise was a special invitation to attend a "ladies only" night at the local community center in Elma, Manitoba, a town east of Winnipeg. As a special guest, Gupton was not only asked to tell the KMG Gold story, but also to evaluate and purchase unwanted jewellery, coins, silverware and other precious metal items the women had brought to the event. It seems that in addition to a fun night out, the women were also looking to generate some spending money!
Fueled by good food, good friends and the occasional glass of Chardonnay, the night turned out to be a huge success. As he loaded his vehicle with his evening's purchases, Michael Gupton said, "I think we've just found ourselves a new market niche."
KMG Gold Recycling buys, recycles, and refines all precious metals including gold, silver, platinum and palladium. Gupton started KMG Gold as an internet gold buyer in 2007 at http://www.kmggold.com, and opened his first location in Winnipeg in 2010 and has now expanded into the USA with a location in Grand Forks ND. For more information on KMG Gold Recycling and its commitment to help educate the consumer, please visit us online or call us toll-free at 1-877-468-2220 or at 204-452-4653.
Media Contact: Michael Gupton, President of KMG Environmental Inc.
KMG GOLD – THE ORIGINAL GOLD BUYER