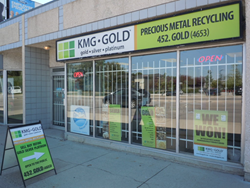 KMG Gold is always striving to improve their award-winning customer service.
(PRWEB) November 18, 2013
KMG Gold Recycling continues its tradition of excellence in serving their customers by introducing some new promotions for the season. Customers who have visited the store and experienced KMG Gold's award-winning customer service have probably have noticed the green sheet of paper attached to their receipt inviting them to like the company on Facebook and write them a review about how their experience was. Customers who share their experiences on the KMG Gold Facebook page will be entered in a draw to win a $100 VISA giftcard.
KMG Gold has also partnered with their Academy Road neighbor, Just Breathe Aesthetics. Customers who visit the KMG Gold Recycling storefront in Winnipeg, Manitoba are invited to enter their in-store draw for the opportunity to win a $25 giftcard that can be used on any salon or spa service offered by Just Breathe Aesthetics. KMG Gold wants their customers to give them feedback on how well they were served when they recycle their precious metals with KMG Gold and their team of skilled gold buyers.
Customers are invited to stay tuned for more exciting holiday news, promotions and sales as December arrives. Customers can find updates on Facebook, the company blog and on the KMG Gold Recycling Gold Buyer homepage.
KMG Gold Recycling® buys, recycles, and refines all precious metals including gold, silver, platinum and palladium. Michael Gupton started KMG Gold as an internet gold buyer in 2007 at http://www.kmggold.com, and opened his first location in Winnipeg in 2009. KMG Gold has now expanded into the USA with an American head office located in Grand Forks, ND.
For more information on KMG Gold Recycling and its commitment to help educate the consumer, please visit us online or call us toll free at 1-877-468-2220 or at 204-452-4653.
Media Contact: Michael Gupton, President of KMG Environmental Inc., 204-452-4653 or MGupton(at)kmggold(dot)com
KMG GOLD – THE ORIGINAL GOLD BUYER