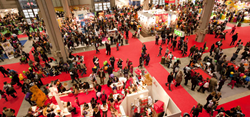 Gupton says, "We're always happy to show our customers the easy ways in which they can get a little extra spending money!"
(PRWEB) January 28, 2014
President and CEO Michael Gupton and Office Manager Jodi Micelli represented KMG Gold this past weekend at the Manitoba Dental Convention Trade Show. Always happy to meet with new, prospective customers to show them how KMG Gold can help them generate more cash for their dental practices, KMG Gold excels at customer education.
KMG Gold has won numerous Better Business Bureau Torch Awards for their strong mandate of customer education, honesty and transparency in all of their business practices. Attending the Manitoba Dental Convention Trade Show is another way to demonstrate to the dental community their dedication to these practices by showing dentists how best to maximize their profits by recycling their unwanted dental gold.
KMG Gold Recycling® buys, recycles, and refines all precious metals including gold, silver, platinum and palladium. Michael Gupton started KMG Gold as an internet gold buyer in 2007 at http://www.kmggold.com, and opened his first location in Winnipeg in 2009. KMG Gold has now expanded into the USA with an American head office located in Grand Forks, ND.
For more information on KMG Gold Recycling and their commitment to help educate the consumer, please visit us online or call us toll free at 1-877-468-2220 or at 204-452-4653.
Media Contact: Michael Gupton, President of KMG Environmental Inc., 204-452-4653 or MGupton(at)kmggold(dot)com
KMG GOLD – THE ORIGINAL GOLD BUYER