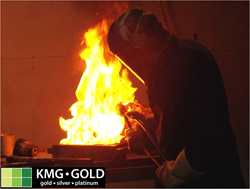 We continually seek out new ways to put more money in our customer's pockets.
(PRWEB) January 13, 2014
In a competitive market, it's crucial to find the best way to serve your customer or that customer will go elsewhere. This is the reality that KMG Gold Recycling lives with every day and it's their response to that reality that continues to earn them their leadership position in the precious metal recycling industry. The acquisition of a new state-of-the-art melting furnace is a prime example of their award-winning customer-first philosophy.
Most consumers aren't aware that all recycled gold eventually ends up at a refinery for processing. Selling unwanted gold and silver jewellery, or other precious metals to a middleman instead of directly to a refinery costs the consumer money out of their pocket. Middlemen include pawn shops, coin dealers, traveling road shows, gold parties, kiosks and cheque cashing outlets. All these middlemen will eventually sell the consumer's gold, silver and other precious metals to a refinery.
Educated consumers that bypass these middlemen and deal directly with a refinery end up with more money in their pocket. Numerous independent third party surveys have confirmed that KMG Gold has among the highest payout rates in Canada for recycled precious metals.
KMG Gold is also the only refinery in Western Canada that serves both the business community and the general public.
KMG Gold Recycling buys, recycles, and refines all precious metals including gold, silver, platinum and palladium. Gupton started KMG Gold as an internet gold buyer in 2007 at http://www.kmggold.com, and opened their first location in Winnipeg in 2010 and has now expanded into the USA with a location in Grand Forks ND. For more information on KMG Gold Recycling and its commitment to help educate the consumer, please visit online or call toll-free at 1-877-468-2220 or at 204-452-4653.
Media Contact: Michael Gupton, President of KMG Environmental Inc.
KMG GOLD – THE ORIGINAL GOLD BUYER