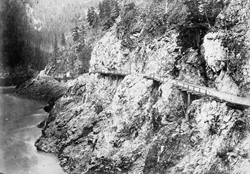 KMG Gold loves providing their customer base with exciting, relevant and educational information.
(PRWEB) February 03, 2014
KMG Gold believes in the importance of customer education, which is one of its mandates that has earned the company so many Better Business Bureau Torch Awards over the years. KMG Gold frequently posts articles to their company blog on topics about gold, silver and the precious metal industry in general to help give their customers a more fun and light-hearted perspective on the precious metal industry while still being educational and informative.
The latest in the Gold Gossip series is about the Cariboo Gold Rush, which occurred in the late 1800s in present day British Columbia. Contrasted to the California Gold Rush and the Klondike Gold Rush, the Cariboo Gold Rush is less well-known but equally as exciting, especially for Canadians who have a personal connection with British Columbia. KMG Gold is happy to provide their customers with exciting and informative reads that will help them realize how far back human desire for gold was and how far many people were willing to go to get it.
KMG Gold Recycling® buys, recycles, and refines all precious metals including gold, silver, platinum and palladium. Michael Gupton started KMG Gold as an internet gold buyer in 2007 at http://www.kmggold.com, and opened his first location in Winnipeg in 2009. KMG Gold has now expanded into the USA with an American head office located in Grand Forks, ND.
For more information on KMG Gold Recycling and their commitment to help educate the consumer, please visit us online or call us toll free at 1-877-468-2220 or at 204-452-4653.
Media Contact: Michael Gupton, President of KMG Environmental Inc., 204-452-4653 or MGupton(at)kmggold(dot)com
KMG GOLD – THE ORIGINAL GOLD BUYER