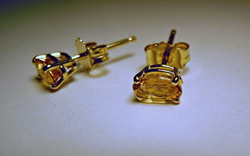 By selling this jewellery, KMG Gold...is helping to support the local Winnipeg economy.
(PRWEB) February 24, 2014
Always eager to meet the growing news of their customers, KMG Gold Recycling has now began to sell various types of wholesale earrings and pendants in their Winnipeg storefront and online on the KMG Gold ecommerce site. Each piece of jewellery is made with 14K white gold or 14K yellow gold and is set with a large selection of gemstones. Some of the gemstones that can be found on various pieces include: citrine, garnet, blue topaz, diamonds, among many more. Each piece is viewable online and comes complete with pictures and detailed information about it.
By selling this jewellery, not only is KMG Gold anticipating and responding to the needs of their customers, they are also helping to support the local Winnipeg economy. Each piece of jewellery is handcrafted and brand new, made by Roger Watson Jewellers, another local Winnipeg business that KMG Gold trusts and respects.
KMG Gold Recycling® buys, recycles, and refines all precious metals including gold, silver, platinum and palladium. Michael Gupton started KMG Gold as an internet gold buyer in 2007 at http://www.kmggold.com, and opened his first location in Winnipeg in 2009. KMG Gold has expanded into the USA with an American head office located in Grand Forks, ND.
For more information on KMG Gold and their commitment to help educate the consumer, please visit online or call toll free at 1-877-468-2220 or at 204-452-4653.
Media Contact: Michael Gupton, President of KMG Environmental Inc., 204-452-4653 or MGupton(at)kmggold(dot)com
KMG GOLD – THE ORIGINAL GOLD BUYER