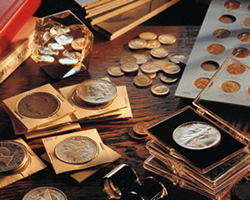 (PRWEB) March 03, 2014
As KMG Gold continues to expand their online presence and increase their offerings of coins and numismatics to their customers, coin collectors can rely on the KMG Gold ecommerce site as a valuable resource for their pastime.
Each coin for sale features a picture of the exact product the customer will receive and contains many key details about it. Coins are priced according to fair market value and largely with the guidance of several Charlton Press catalogues that are specific to coins, numismatics and paper money.
For people looking to sell coins, numismatics and paper money to KMG Gold, they can rest assured that the same process will be used to purchase their coins from them, ensuring that they receive the most money for their items. This detail-oriented buying process is standard for KMG Gold but is unfortunately not the case for other businesses who purchase coins and numismatics.
KMG Gold Recycling® buys, recycles, and refines all precious metals including gold, silver, platinum and palladium. Michael Gupton started KMG Gold as an internet gold buyer in 2007 at http://www.kmggold.com, and opened his first location in Winnipeg in 2009. KMG Gold has expanded into the USA with an American head office located in Grand Forks, ND.
For more information on KMG Gold and their commitment to help educate the consumer, please visit online or call toll free at 1-877-468-2220 or at 204-452-4653.
Media Contact: Michael Gupton, President of KMG Environmental Inc., 204-452-4653 or MGupton(at)kmggold(dot)com
KMG GOLD – THE ORIGINAL GOLD BUYER