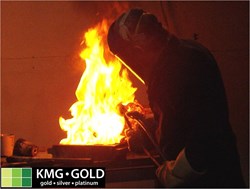 KMG Gold Recycling strives to be a one-stop shop for tools, equipment and knowledgeable industry advice.
(PRWEB) August 26, 2013
Michael Gupton, President of KMG Gold Recycling is pleased to announce that KMG Gold has become an authorized Canadian distributor for RDO Induction LLC and now retails their products on KMG Gold's brand new ecommerce site at http://kmggold.com/store.cfm.
RDO Induction LLC is a leading supplier of Induction Furnace Melting Equipment for ferrous, non-ferrous and precious metal alloys. In addition to furnaces/melters, the company also supplies accessories such as crucibles, ingot molds, safety and handling equipment and much more, to the precious metals industry.
This latest expansion of the KMG Gold Recycling products and services is a reflection of the company's desire to better serve their customer base by providing a one-stop shop for tools, equipment and knowledgeable industry advice. It also helps to solidify the company's position as the leading precious metal recycler in Canada.
KMG Gold is the only refinery in Western Canada serving both the business community and the general public.
KMG Gold Recycling buys, recycles, and refines all precious metals including gold, silver, platinum and palladium. Gupton started KMG Gold as an internet gold buyer in 2007 at http://www.kmggold.com, and opened their first location in Winnipeg in 2010 and has now expanded into the USA with a location in Grand Forks ND. For more information on KMG Gold Recycling and its commitment to help educate the consumer, please visit us online or call us toll free at 1-877-468-2220 or at 204-452-4653.
Media Contact: Michael Gupton, President of KMG Environmental Inc., 204-452-4653 or MGupton(at)kmggold(dot)com
KMG Gold – The Original Gold Buyer