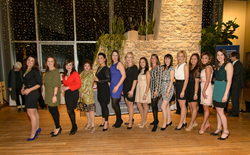 KMG Gold was happy to be the Inspire Sponsor of the second annual Attire to Inspire Fashion show and was even happier to lend a hand to such a great charity.
(PRWEB) February 17, 2014
On Monday February 3, 2014, KMG Gold sponsored the second annual Attire to Inspire Fashion Show which supported the SMD Foundation and Easter Seals™ Manitoba. This is the second year that KMG Gold was a sponsor of the show and this year they were named the Inspire Sponsor of the year. Unlike last year, KMG Gold was able to send members of their team to enjoy the show and see firsthand what a successful event it was. Project Specialist Tasha DiLoreto and Office Manager Jodi Micelli were both in attendance for the night which boasted beautiful runway fashions, local celebrities and delicious food and wines.
Held in a new venue this year, at the Qualico Family Centre in the Assiniboine Park, the 144 person event was a success and sold out for the second year in a row. The fashion show featured local clothing from several small boutiques in Winnipeg and all of the celebrities in attendance were also local Winnipeg personalities, like Blue Bombers teammates, local news anchors and local politicians.
KMG Gold is happy to lend their support to such a fantastic cause and looks forward to sponsoring them again next year. Looking forward, KMG Gold will continue to support Easter Seals™ Manitoba and will be participating in the Drop Zone Challenge this summer.
KMG Gold Recycling® buys, recycles, and refines all precious metals including gold, silver, platinum and palladium. Michael Gupton started KMG Gold as an internet gold buyer in 2007 at http://www.kmggold.com, and opened his first location in Winnipeg in 2009. KMG Gold has expanded into the USA with an American head office located in Grand Forks, ND.
For more information on KMG Gold and their commitment to help educate the consumer, please visit online or call toll free at 1-877-468-2220 or at 204-452-4653.
Media Contact: Michael Gupton, President of KMG Environmental Inc., 204-452-4653 or MGupton(at)kmggold(dot)com
KMG GOLD – THE ORIGINAL GOLD BUYER