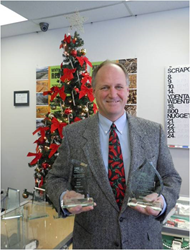 ...being recognized for the Environment Friendly Award this year is something very special and prestigious.
(PRWEB) December 09, 2013
KMG Gold was awarded their fifth consecutive Better Business Bureau (BBB) Torch Award for Marketplace Excellence. Nominated by dozens of happy customers and named a finalist by the BBB, KMG Gold was named the 2013 winner in the midsize business category.
The BBB Torch Awards is an annual program that recognizes businesses that build trust, advertise honestly, remain transparent in their business dealings, honour their promises and display integrity in all of their marketplace activities. Companies are nominated for the awards by peers and customers and the winners are selected by a panel of independent judges. KMG Gold is currently the only company in the precious metal recycling industry to receive multiple BBB Torch Awards for Business Excellence and the only company to receive the Environment Friendly award for 2013.
To be nominated for the Environment Friendly Award, a business must demonstrate leadership and innovation in minimizing the impact the business has on the environment. According to Michael Gupton, President of KMG Environmental Inc., the parent company of KMG Gold, being recognized for the Environment Friendly Award this year is something very special and prestigious.
In KMG Gold's case, the environmental impact is much broader than just their business. All of the precious metals refined by KMG Gold are recycled and placed back into the world's precious metal markets. This helps reduce the demand for newly mined metals, which in turn, helps reduce both the amount of energy required to mine virgin metal, as well as decrease the amount of acid rock drainage generated by mine waste rock dumps and tailings ponds. By recycling their precious metals, KMG Gold customers have helped reduce the amount of acid waste rock generated by virgin mining of gold alone by more than three million tons.
KMG Gold Recycling® buys, recycles, and refines all precious metals including gold, silver, platinum and palladium. Michael Gupton started KMG Gold as an internet gold buyer in 2007 at http://www.kmggold.com, and opened his first location in Winnipeg in 2009. KMG Gold has now expanded into the USA with an American head office located in Grand Forks, ND.
For more information on KMG Gold Recycling and its commitment to help educate the consumer, please visit us online or call us toll free at 1-877-468-2220 or at 204-452-4653.
Media Contact: Michael Gupton, President of KMG Environmental Inc., 204-452-4653 or MGupton(at)kmggold(dot)com
KMG GOLD – THE ORIGINAL GOLD BUYER