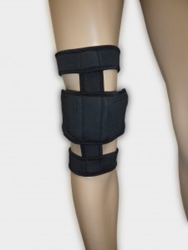 Dr. Allen's Device provides natural chronic knee pain relief by improving blood circulation in the affected knee, for as little as $155.
London, GB (PRWEB) June 21, 2014
Knee pain, which is commonly related to injuries to the collateral ligaments, often occur during the football matches as we can watch at FIFA World Cup this year, however, age is a major risk factor for osteoarthritis of the knee. According to a recent article in the Chicago Tribune, people shouldn't rush to get a knee surgery but try alternative therapies in the first place and natural Dr. Allen's Device for Knee Treatment is one of them, Fine Treatment reveals.
The article in the Chicago Tribune 'Explore alternatives before opting for joint replacement surgery,' dated June 18, 2014, warns, "before you embark on knee surgery, there are other, less invasive therapies you can try. Joint replacement surgery is a big step, and it carries risks like infection, nerve injury, and loosening of the implant. It can take anywhere from eight to 12 weeks to fully recover from a joint replacement and if you don't have someone to help you during that time, you may need to go to a rehabilitation facility."
"The alternative treatment with Dr. Allen's device relieves knee pain, side effects free and, moreover, is cost-effective," notes Dr. Allen.
For instance, according to a recent article, 'Take better care of your knees,' in the Guardian, dated June 17, 2014, 'With an average price tag of US$50,105, knee replacement surgeries are also among the most expensive, and the high price doesn't guarantee better results. That's just an average, though. Knee surgeries, like almost all hospital procedures, vary widely between states, counties and individual hospitals. Based on recently released Medicare data, the procedure can cost as little as $5,303 and as much as $223,373. Even if your health insurance covers part of it, that's a bill you won't want to pay—ever.'
"Runners, football players, other sportsmen and aging people are at risk of having knee problems, therefore they have to be aware about a natural therapy with Dr. Allen's Device for Knee Treatment, which can help them to avoid complications from the current treatment options," says Dr. Simon Allen. "Dr. Allen's Device provides natural chronic knee pain relief by improving blood circulation in the affected knee, for as little as $155."
For details, please visit Fine Treatment at http://finetreatment.com/knee-osteoarthritis-knee-pain-treatment/.
About Dr. Simon Allen and Fine Treatment:
Dr. Simon Allen, MD, PhD, Academician, member of the ATA, is a highly experienced medical professional. His specialty is in internal medicine. He has treated a wide range of chronic diseases, including patients after a heart attack, stroke, with kidneys problems, including kidney stones disease, prostate and spine conditions, as well as metabolic disorders. Fine Treatment ensures international availability of Dr. Allen's Devices for the treatment of chronic prostatitis and BPH, coronary heart disease, for dissolving kidney stones, for a powerful relief of upper and lower back pain and sciatica, as well as for natural brain function support.