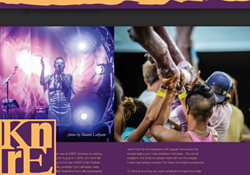 The ARISE Music Festival enthusiastically applauds the launch of Knew rEvolution magazine, a publication whose mission uniquely aligns with the greatest aspirations of every cultural gathering of socially conscious intent. - Paul Basis, ARISE Co-Founder
Boulder, CO (PRWEB) April 21, 2016
The Knew rEvolution magazine has officially launched in April. Based in Boulder, Colorado, Knew rEvolution is a festival culture magazine that curates high quality content about the dynamic social movement known as the Transformational Festival. The team members at Knew rEvolution have been working with festivals in many different facets over the past five years. They've brought their knowledge, expertise and networks together to create this magazine that aims to connect the Transformational Festival culture with the rest of the world.
Over the past four years, Matt Bovard, the Chief Visionary Officer of Knew rEvolution, has been organizing art and conscious events in Boulder with various groups such as Evolver Boulder and StarWater Elixir Bar. Through this work he established relationships with festival producers, artists, writers, photographers, videographers, visual artists, yoga practitioners, alternative healing practitioners, fire dancers and many other creative individuals that make Colorado such a rich and thriving community. After years of networking and visioning, Knew rEvolution has now launched. Keyframe-Entertainment has joined the team as media and distribution partner.
"The ARISE Music Festival enthusiastically applauds the launch of Knew rEvolution magazine, a publication whose mission uniquely aligns with the greatest aspirations of every cultural gathering of socially conscious intent. Modern-day music festivals can serve a function in today's society that is rarely found anywhere outside of the festival experience. Thank you Knew rEvolution for providing a voice and vehicle for people to further build upon that experience," says Paul Basis, Co-Founder/Producer of ARISE Music Festival.
The inaugural issue of Knew rEvolution is available digitally and features visual art, poetry, interviews, short stories, festival self-care along with many other favorite festival topics. The design of the magazine is intended to take the reader on a journey of visual beauty and intellectual stimulation fostering their sense of wonder. It will be published quarterly with the intent of keeping the "festival state of mind" going through everyday dealings. "The Knew rEvolution team views the festival as not just a party, but a ship to the future," says Matt Bovard.
Knew rEvolution is built on the foundation of the art movement of the 50's Beat Generation which led into the 60's counterculture. Neal Cassady was the thread that wove these two communities together, being the wheelman of Jack Kerouac's "On The Road," then again with Ken Kesey's and the Merry Pranksters' Furthur. As a calling to these roots, there will be a featured interview in each issue with elders from these movements. The inaugural issue features an interview with entertainer and peace activist Wavy Gravy.
"Festival culture can help point the collective consciousness towards collaboration and group synergy. Knew rEvolution magazine's coverage of this cultural process provides a critical feedback loop of information, feeding the positive effect of the synergy that happens in the festival community back to itself, thereby amplifying the changes that we so critically need to make in society in order to build and maintain a sustainable future on this planet. SONIC BLOOM is honored to be a part of this movement and to have been part of the inspiration for creating Knew rEvolution in the first place," says Jamie Janover, Producer of SONIC BLOOM Festival.
The inaugural issue of Knew rEvolution is available for Pay-What-You-Can at http://www.knewrevolution.com. Three percent of every contribution will go to Musical Activist Alliance (MAA), a non-profit that connects musical artist to causes both local and global to facilitate artists using their voice to engage in social change.
To celebrate the magazine launch, on April 23rd in Boulder, CO the Integral Center will host a launch party event. StarWater will be presenting "FUNd the rEvolution," an activation of Knew rEvolution festival culture magazine and Musical Activist Alliance, MAA.
Set from 4pm to 4am, the event will feature workshops, Rainbow Lightening Children's Village, ​open mind-open mic, visual art, poetry, activist tabling and aesthetics. The musical performances will feature some of Colorado's finest local talent such as Totem, Xerephine, Alias Clay, Fierce le Fey (Zoe Clare), Treaphort, $lumber Party and more to be announced. For more info, go to the Facebook event page: https://www.facebook.com/events/990022207750692/.
About Knew rEvolution:
Knew rEvolution is an art and culture magazine that pushes to help create a conscious rEvolution and help the Earth transition into a Knew Age of Light and prosperity. It covers the spiritual, health and art practices of the festival scene that can be missed at the festival when all the pretty lights and highs are blurred into a few days. The goal is to maintain and cultivate the scene into a more socially aware, empowered community even in the default world.
About Keyframe:
Keyframe-Entertainment produces, finances, and distributes cutting-edge projects by forming strategic partnerships that generate growth for its clients and partners. By inspiring, informing and entertaining through film, electronic music, visionary art, community building, and Transformational Festival culture, Keyframe aspires to create global positive change. Keyframe is the Executive Producer of "ReInhabiting the Village," "The Bloom Series" Episode 3, and "Electronic Awakening." Keyframe also offers marketing support and strategic networking to DJs, producers, companies, filmmakers, nonprofits, and festivals.