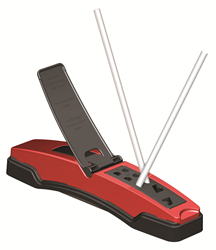 Buffalo, New York (PRWEB) September 12, 2014
Lansky Sharpeners, a world leader in innovative sharpening technology, continues to expand its line of easy-to-use sharpeners for the home, kitchen and shop with the development of the Master's Edge Sharpener. The Master's Edge, modeled after Lansky's popular line of Gourmet Sharpeners, features a variety of aesthetic and technical advancements.
The new sharpener features three of the most common bevel angles found on factory-made knives today: 17°, 20° and 25°. These angles were carefully picked to match the angles found on Lansky's Turn Box Sharpening line and its legendary Controlled Angle System.
With a stylish, custom design that looks great on any kitchen countertop, the Master's Edge is as aesthetically pleasing as it is hard-working, and is also great for sharpening sporting and outdoor knives.
The sharpener comes with five, 9-inch alumina ceramic sharpening elements. The two medium rods and the two fine rods are used to maintain and repair plain-edged blades. The newly added triangular rod can be used to sharpen all types of serrations, as well as pointed tools such as fish hooks and awls. Once the 9-inch sharpening rods are fully inserted in the proper pre-set angle holes, the actual sharpening motion is as easy as slicing bread. The blade is held vertically and drawn down one rod to sharpen one side of the blade, then down the other rod for the opposite side of the blade. A few strokes on each rod at the precise angle will assure a perfect factory-like new edge every time for both small and large knives.
Easy to use and store, the Master's Edge is the perfect sharpening system for both experienced and novice knife sharpeners. Safety features include a rubber non-slip base and an integrated hand guard.
About the company:
Lansky Sharpeners is the most recognized name in knife sharpening systems worldwide. In addition to their legendary Controlled Angle Sharpening System, they continue to develop new sharpening technologies and innovations for hunting, outdoor sports, kitchen use, as well as the workshop. Their product line includes everything from a knife sharpener to a pocket knife sharpener. Visit their online store to view their ever-expanding line of great sharpening products. For more information, visit their website at http://www.lansky.com.