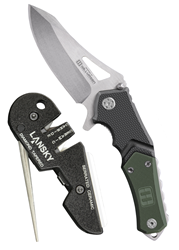 Buffalo, New York (PRWEB) January 06, 2015
What started as a promotional item for Lansky Sharpeners' new Urban Tactical knife line has now become a successful part of the company's regular lineup due to its strong sales numbers. The Responder/Blademedic® pack (UTR7) combines Lansky's bestselling EDC (every day carry) knife in America with their number-one selling sharpener worldwide: the Blademedic®.
The Responder, designed by Danish custom knife maker Mikkel Willumsen in collaboration with Lansky Sharpeners, is 7" in overall length, weighs 6 ounces, and has a nylon handle that fits comfortably in the hand. The blade on the Responder is a 3½" 440C stainless steel blade. With a two-position pocket clip, the Responder quickly goes from a tip up or tip down carry, with a simple switch of the clip.
"From the beginning, we wanted to field a small but respectable knife line – Willumsen's designs ignited the kind of excitement and interest we were looking for, and our customers have not been disappointed," said Christopher Fire, CEO at Lansky Sharpeners.
The second part of this impressive combo is Lansky Sharpeners' Blademedic®. Designed to be the first responder for field repairs on all types of blades, the Blademedic® features four different sharpening elements in one small portable package. It incorporates diamond, ceramic rods, carbide tips and a mini ceramic "benchstone", all in one tool. International sales of the Blademedic® have been strong from its introduction, and have continued to increase every year since.
One of the factors contributing to the worldwide success of the Blademedic® has been the overwhelmingly positive consumer feedback. Consumers love the speed and ease in which knives can be sharpened, as well as the rugged and durable metal chassis. The Blademedic® can handle sharpening the toughest steel along with the widest range of blades. It's like having an entire sharpening kit right in your pocket.
At an MSRP of $29.99 USD the Responder/Blademedic® combo pack (UTR7) is an incredible value and has been especially successful throughout the United States.
About the company:
Lansky Sharpeners is the most recognized name in knife sharpening systems worldwide. In addition to their legendary Controlled Angle Sharpening System, they continue to develop new sharpening technologies and innovations for hunting, outdoor sports, kitchen use, as well as the workshop. Their product line includes everything from a knife sharpener to a pocket knife sharpener. Visit their online store to view their ever-expanding line of great sharpening products. For more information, visit their website at http://www.lansky.com.