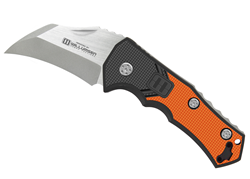 Buffalo, New York (PRWEB) February 06, 2015
The success of the Lansky/Mikkel Willumsen World Legal™ knife in 2014 has given birth to another fantastic addition to Lansky's World Legal™ knife category: The Madrock.
The Madrock is an excellent quality slip-joint knife that can be carried just about anywhere in the world (always contact the local government for the most recent knife-carry regulations) and boasts design features beyond the original World Legal™ knife. A few of the upgraded features include same blade length yet with a shorter overall length and reduced weight of almost 2 ounces for an enhanced everyday carry experience, an inwardly curving blade, a low-profile deep pocket clip, and a tactile rubberized grip that resists slipping even when wet.
In 2014, Lansky began its collaboration with Danish custom knife maker Mikkel Willumsen by introducing three of Mikkel's original Urban Tactical knife designs. The World Legal™ knife has been by far the most successful knife of this collaboration, based on both worldwide sales numbers and positive customer feedback. Lansky Sharpeners intends to continue adding to its World Legal™ Slip-Joint Knife series by adhering to its original tenant: make great, affordable knives that anyone can carry in as many countries as possible.
Denmark's knife laws are fairly restrictive, which was the impetus for Mikkel Willumsen to design a knife that could be carried not only in Denmark, but also in other countries or jurisdictions where knife laws are quite stringent. Denmark does not allow blade locks, assists or one-handed opening. The new Madrock World Legal™ knife follows these guidelines with stylish durability.
With a 6.75" overall length and a 2.75" 9Cr18MoV Blade, the Madrock World Legal™ Slip-Joint is a knife that can be legally carried in most countries. It has a two-position, low-profile deep pocket clip for right or left-handed carry, and a comfortable nylon handle with slip-resistant rubber grip. The new Madrock World Legal™ knife is available in clam pack (LKN444), or in a collectors box (BXKN444). Pre-orders are now being accepted. Learn more at lansky.com.
Mikkel Willumsen has gained notoriety worldwide for his innovative and gritty Urban Tactical designs. Based in a repurposed factory in Copenhagen, Denmark, Mikkel has been designing and producing custom made knives for over 10 years, specializing in high-quality folders and fixed blades. By bringing his talents and experience to Lansky, customers can expect the functionally modern aesthetics that define his work, combined with Lansky Sharpeners' unwavering dedication to quality.
About the company:
Lansky Sharpeners is the most recognized name in knife sharpening systems worldwide. In addition to their legendary Controlled Angle Sharpening System, they continue to develop new sharpening technologies and innovations for hunting, outdoor sports, kitchen use, as well as the workshop. Their product line includes everything from a knife sharpener to a pocket knife sharpener. Visit their online store to view their ever-expanding line of great sharpening products. For more information, visit their website at http://www.lansky.com.