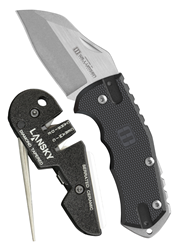 Buffalo, New York (PRWEB) March 05, 2015
What started as a one-off for Lansky Sharpeners to help promote its brand-new Urban Tactical knife line has now been rolled into its lineup due to its strong sales numbers. The World Legal™/Blademedic® pack (WRLDPAC) combines Lansky's number-one-selling knife worldwide, the World Legal™, with their number-one-selling sharpener worldwide, the Blademedic®.
This year Lansky began its collaboration with Danish custom knife maker Mikkel Willumsen by introducing three of Mikkel's original Urban Tactical knife designs. The World Legal™ has been by far the most successful knife of this collaboration, based on both worldwide sales numbers and positive customer feedback. The World Legal™ Slip-Joint Knife was created with one idea in mind: make a great, affordable knife that anyone can carry in as many countries as possible. Denmark's knife laws are fairly restrictive, which was the impetus for Mikkel Willumsen to design a knife that could be carried not only in Denmark, but also in other countries or jurisdictions where knife laws are quite stringent. Denmark does not allow blade locks, assists or one-handed opening. Starting out with an aggressive, modern, substantial looking silhouette and using traditional slip-joint technology to ensure that the blade could only be opened by using both hands, Willumsen crafted an impressive cutting tool that can be carried with absolute pride.
"Knives are one of humanity's oldest tools, and Lansky Sharpeners along with Mikkel Willumsen wants to help everyone, regardless of where they are, have the uninfringed ability to have that cutting tool at the ready, without worry of undue legal entanglement," said Christopher Fire, CEO at Lansky Sharpeners.
With a 7" overall length and a 2.75" 440C Stainless Blade, the World Legal™ Slip-Joint is as impressive looking as it is formidable. It has a 4-position pocket clip for tip up, tip down and ambidextrous carry, and a durable yet comfortable nylon handle.
The counterpart to this impressive combo is the Lansky Sharpeners Blademedic®. Designed to be the first responder for all field repairs on all types of blades, it features four different sharpening elements in one small portable package. The Blademedic® incorporates diamond, ceramic rods, carbide tips and a mini ceramic "benchstone" into one tool. International sales of this little wonder have been impressive from its introduction and have steadily increased every year since.
Some of the factors contributing to the worldwide success of the Blademedic® have been the overwhelmingly positive consumer feedback. Consumers love the speed and ease in which knives can be sharpened, as well as the rugged and durable metal chassis. The Blademedic® can handle sharpening the toughest steel and carries the widest range of blades. It's like having an entire sharpening kit right in your pocket.
At an MSRP of $29.99 USD the World Legal™/ Blademedic® combo pack (WRLDPAC) is an incredible value and has been especially successful in Denmark, Germany, the United Kingdom, as well as the USA.
About the company:
Lansky Sharpeners is the most recognized name in knife-sharpening systems worldwide. In addition to their legendary Controlled Angle Sharpening System, they continue to develop new sharpening technologies and innovations for hunting, outdoor sports, kitchen use, as well as the workshop. Their product line includes everything from a knife sharpener to a pocket knife sharpener. Visit their online store to view their ever-expanding line of great sharpening products. For more information, visit their website at http://www.lansky.com.