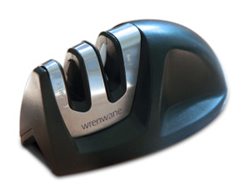 (PRWEB) April 08, 2014
At a recent industry trade fair, popular kitchen gadget and utensils brand Wrenwane were able to showcase a new addition to their range of products. Amongst the new items on show from the company, was the Wrenwane Kitchen Knife Sharpener (http://wrenwane.com/knife-sharpener/). During the presentation the product team explained the features of the product and gave a demonstration to highlight its abilities and prowess as a tool for sharpening knives in the home.
The product itself is compact and lightweight, aiming to make it easy to handle for cooks of all sizes. The modest dimensions also mean that this tool won't take up more space than necessary and will fit into the most compact of kitchen spaces. However, despite its relatively diminutive dimensions, the Wrenwane product demonstration team were keep to point out that there had been no sacrifice in functionality or ability when it came to sharpening a blade. "Traditionally knife sharpeners have been rather bulky and not too pleasing on the eye, however with our new addition to the market, we've tried to ensure that not only does it not take up any unnecessary space, but it also looks good enough to be left out on display in any kitchen, no matter how modern and stylish," one of the demo team explained.
When it comes to performance, the product demonstration left no doubts about the abilities of the new Wrenwane Kitchen Knife Sharpener. Thanks to the product's use of two tungsten carbide and ceramic rods, the company claims it is able to transform the dullest of blades into the perfect cutting and pairing tool. "When we sat down to design the concept of this product, we decided the best approach would be to use the highest quality materials with the best sharpening properties available," a product designer on the Wrenwane team explained. "Too often in the past we've heard from potential customers that the knife sharpeners they've bought haven't delivered and been unable to restore the sharpness of a well-used blade. When we heard that we knew there was a gap in the market for an easy to use and effective knife sharper and hence the Wrenwane Kitchen Knife Sharpener was born," he continued.
Although the ability of this product to sharpen a knife is its main selling point, the designers were keen to highlight its secondary features that aim to help it stand out from the other products of this type that are available. "In addition to the compact design and quality components, we wanted to make sure this tool had everything needed to make it easy and safe to use. To further these goals we added non-slip feet, and an indented finger area to enable a more secure grip, as well as a v-shaped based to allow it to be held in place by the corner of a table or work surface in order to provide even more support and stability," a product representative espoused.
While all the above might indicate that this product will be expensive when launched, the Wrenwane company have a reputation for making high quality, yet inexpensive kitchen utensils and gadgets, making the chances that this knife sharpener will be another affordable tool from this kitchen gadget brand.
For more details and to purchase the Wrenwane Knife Sharpener visit Amazon.com at http://www.amazon.com/Kitchen-Knife-Sharpener-Sharpening-Attractive/dp/B00IZK67N6