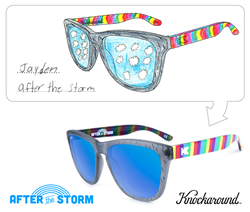 Jayden's colorful design and optimistic message really stood out.
San Diego, California (PRWEB) April 14, 2016
Knockaround Sunglasses is pleased to announce the release of this year's student-designed Class Acts sunglasses. The sunglasses, titled "After the Storm," were designed by a 5th grader named Jayden Crenshaw from Madison Elementary in El Cajon, California.
Class Acts is Knockaround's ongoing campaign that supports art education by donating money, resources, and supplies to local elementary schools with limited budgets.
Every year Knockaround visits local elementary schools to talk about the importance of art in day-to-day life. Students are given the opportunity to design their own special pair of sunglasses. Of those designs, one winning design is selected, produced, and sold on Knockaround.com. All proceeds from the sale are then donated to the participating elementary schools and Knockaround's charitable partner, ArtReach.
Jayden's unique design features frosted rainstorm grey fronts, cloud-break blue lenses, and rainbow covered arms on Knockaround's classically styled "Premiums" frame style. Pulling inspiration from Jayden's original drawing, each pair has a small cloud logo laser etched on the left lens. A Knockaround sticker, grass green microfiber pouch, and custom blue poncho round out the 2016 set.
In describing his "After the Storm" shades, Jayden wrote, "I did this because I like rainbows and I thought it would be cool."
"This year we had almost 500 student designs to choose from," said Knockaround's CEO, Adam Moyer. "There were so many great ones, it was hard to choose just one. But in the end, Jayden's colorful design and optimistic message really stood out."
The After the Storm sunglasses will be sold for $30 and will be released nationally on Knockaround.com on Thursday, April 28th, 2016. They will also be available for purchase at the Mission Federal ArtWalk event on April 31st and May 1st, 2016 in the Little Italy neighborhood of San Diego, California.
Previous Class Acts winning designs include sunglasses inspired by wildlife ("Shark Attack"), food ("Nacho"), and nature ("Striker"). To date, Knockaround has raised over $40,000 for elementary art education in San Diego County through its Class Acts program.
Added Moyer, "In the coming years we hope to take our Class Acts program nationwide. It would be fantastic to see even more young artists like Jayden designing fun and unique sunglasses!"
For more information on Knockaround Sunglasses and the Class Acts program, please visit Knockaround.com.
###
ABOUT KNOCKAROUND
Founded in 2005 and based in San Diego, Knockaround is the original, affordable Southern California sunglasses company. Centered around a sunglasses line that is both practical and stylish, Knockaround provides high quality sunglasses that won't break the bank. Since its inception, Knockaround has grown to offer five different frame styles available in a wide range of colors, ongoing Limited Edition sunglasses and collaborations, a "build your own" custom sunglasses shop, and an extremely loyal fan base. Knockaround Sunglasses has been featured in well-known media outlets such as GQ, US Weekly, and The Today Show, and have been worn by several celebrities including Matthew McConaughey, Natalie Portman, and Snoop Dogg. For more information, please visit Knockaround.com.