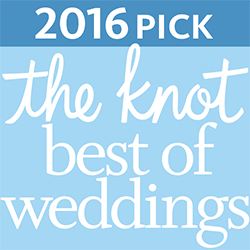 We don't believe in cookie-cutter weddings, but instead seek to deliver a highly personalized, incredibly fun, and memorable evening that our clients will cherish for decades.
Tallahassee, Florida (PRWEB) February 09, 2016
Amplify Entertainment owner and Chief Entertainment Officer Nate Long announced today that his company was selected as a 2016 ­­winner in The Knot Best of Weddings, an award representing the highest-rated wedding professionals across America as reviewed by real couples, their families and wedding guests on The Knot.
"We're honored to receive such an important award in the wedding industry," said Long. "We work very hard with each and every one of our clients to plan and follow through with every last detail of wedding entertainment as if we're preparing for the only wedding we'll perform the entire year. We don't believe in cookie-cutter weddings, but instead seek to deliver a highly personalized, incredibly fun, and memorable evening that our clients will cherish for decades. We express deep gratitude for their trust in allowing us to take such a major role in their wedding day as DJ and Master of Ceremonies, and for taking the time to help us win this prestigious award."
In 2016, only two percent of the 250,000 local wedding professionals listed on TheKnot.com received this distinguished accolade, including a very small number of wedding DJs. In its tenth annual year, The Knot continues its longstanding tradition of supporting local wedding vendors with The Knot Best of Weddings 2016, an annual by-couples, for-couples guide to the top wedding professionals across the country. To determine the winners, The Knot assessed almost one million reviews from real couples across the various vendor categories, including wedding venues, wedding DJs, musicians, florists, photographers, wedding planners, caterers, rental companies and more. These winners represent the best of the best for wedding planning professionals for brides- and grooms-to-be to inspire, plan and execute their own unique wedding. Amplify Entertainment was the only Tallahassee-based wedding DJ to receive the award.
"We love working with Nate and his team at Amplify Entertainment," said John Gandy Events owner and Creative Director John Gandy. "They always do such a great job and offer a large variety of customizable options -- certainly not your typical DJ."
For more information about The Knot Best of Weddings and a complete list of winners, visit TheKnot.com/vendors/best-of-weddings. To meet the team at Amplify Entertainment and book a free wedding entertainment consultation, visit AmplifyMyEvent.com. For wedding-specific information or to learn more about wedding lighting and DJ services, visit AmplifyMyEvent.com/weddings.
About Amplify Entertainment
Amplify Entertainment was founded in 2006 by Nate Long in Tallahassee, Florida with a single burning ambition: the relentless pursuit of the perfect wedding according to each client's unique vision and preferences. The company, which has since performed nearly 450 weddings, focuses on highly personalized wedding entertainment and lighting fused with technology to connect to wedding clients and their guests in unique and fun ways. Features include custom-designed monogram lighting, custom color wedding LED uplighting, live music options and even the company's own KidStation for younger wedding guests to have their own party while the adults dance. In 2011, Nate Long invented the award-winning Hey DJ! Mobile Request System for Amplify Entertainment, allowing guests to send song requests by mobile web app, text message or tweet. Amplify Entertainment serves Tallahassee, Thomasville, Valdosta, Destin, Panama City Beach, St. George Island, Jacksonville, Ocala, Monticello, Gainesville, Albany and Dothan. Meet the team or set up a free wedding consultation at AmplifyMyEvent.com and follow on social media: Facebook.com/AmplifyMyEvent, Twitter.com/WeddingSavvyDJ, Pinterest.com/AmplifyMyEvent and Instagram.com/AmplifyDJs.
About The Knot
The Knot is the nation's leading wedding resource with a marketplace that seamlessly engages, matches and connects couples with the right local vendors, products and services they need to plan and pull off their wedding. The trusted brand reaches nearly every bride in the US through TheKnot.com, its mobile apps, The Knot national and local wedding magazines and The Knot book series. The Knot has inspired approximately 25 million couples to plan a wedding that is uniquely them. Visit The Knot online at TheKnot.com and follow on social media: Facebook.com/TheKnot and @TheKnot on Twitter, Pinterest and Instagram.