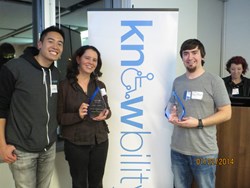 Knowbility Inc, Austin tech-nonprofit, makes the web accessible for people with disabilities.
Austin, TX (PRWEB) January 31, 2014
On January 22, Google Austin hosted Knowbility's OpenAIR (Accessibility Internet Rally) wrap-up party, announcing the top three accessible web sites from this year's international competition; thirteen sites created by teams from five countries on four continents for this 16th annual AIR Rally. The 2013 – 2014 OpenAIR Finalists Are:

Barrier Breakers from Cognizant designing for NPO Musical Connections
Basic Semantic, members from Capitol One and Deque designing for Virginia School for Autism
Global Web Revampers, members from IBM, Google, GivePulse designing for Accessible Housing Austin
Finalists will take judges' feedback and improve their sites for a final round of judging. Winners will be announced at SXSW Interactive Dewey Winburne Community Service Award party on March 6th.
About OpenAIR:
The Accessibility Internet Rally (AIR), dating from 1998, is an Austin original, a community hackathon with a unique twist – accessibility! Web developers are taught accessible design skills, and then make accessible websites for Austin nonprofits. The professionally designed sites are donated to nonprofit groups and hosted for free for one year. Open-AIR increases awareness of the tools and techniques that make the Internet accessible to everyone - including people with disabilities. AIR benefits nonprofit organizations and schools by providing them with free, professionally designed, accessible websites. OpenAIR is sponsored by the City of Austin, St. Edwards University, Deque Systems, and the Texas Department of Information Resources (DIR).
AIR is designed for Web professionals, people who currently create on-line applications and who are proficient in HTML and other techniques for creating Web pages. Through OpenAIR, developers will learn accessible design techniques, have the chance to show off their skills, win prizes, and help local nonprofits do the work that benefits our communities.
To learn more about the OpenAIR Awards, visit http://www.knowbility.org/v/open-air/ or contact Knowbility Marketing Volunteer, Ozlem Diker, at ozlem.diker(at)hotmail(dot)com.
BACKGROUND- Knowbility, Inc.
Austin's Knowbility, Inc., http://www.knowbility.org, is a 15-year-old, international leader in accessible IT for people with disabilities - blind, visually impaired, deaf, mobility impaired and other disabilities. Co-Founder Sharron Rush, serves as Co-Chair of the World Wide Web Consortium's WAI Education and Outreach Working Group. Knowbility's team of experts is internationally recognized for its role in creating the worldwide standard for web accessibility. Since the first Air competition in 1998, Knowbility has provided accessible web training to hundreds of corporations, government agencies and community-based organizations throughout the nation. Knowbility's accessibility testing and consulting team has guided and the creation of more than 1,000 accessible web sites making information accessible to the 55 million Americans with disabilities. ATSTAR, Knowbility's professional educational initiative for assistive technology in the classroom, currently serves thousands of special education students, their teachers and parents in four states. Our AccessWorks program employs people with disabilities as document remediation specialists, user experience testers and Quality Assurance specialists.
Knowbility has received numerous awards for excellence in services to people with disabilities, including recognition by the Clinton White House and the US Department of Labor for excellence in employment practices for people with disabilities.