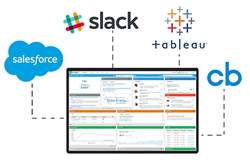 "At Cipher, we strive to help our clients get the most robust picture of their market and competitive landscape to make smarter, faster decisions. This new integration addresses a key challenge for our clients—analyzing privately-held competitors and new start-ups entering their markets."
WASHINGTON (PRWEB) November 27, 2018
Knowledge360®, the industry-leading solution for competitive and market intelligence professionals, now tackles one of the toughest challenges CI professionals face today – tracking private companies. A newly released integration with Crunchbase—the leading destination for millions of users to discover detailed financial information and news about start-ups, venture-backed, and other privately-held companies—augments existing private and public company data in Knowledge360® to provide users with a more complete picture of their competitive landscape.
The integration adds information on private company funding, M&A, leadership, and investments to an already robust information base housed in Knowledge360®.
Speaking about the benefits of the new integration, Peter Grimm CEO of Cipher said, "At Cipher, we strive to help our clients get the most robust picture of their market and competitive landscape to make smarter, faster decisions. This new integration addresses a key challenge for our clients—analyzing privately-held competitors and new start-ups entering their markets. This integration, along with others we are currently working on, will serve to support of our mission of helping companies craft and execute smarter, more effective corporate strategies by providing them with easy access to the information they need, when they need it."
Knowledge360® is an all-in-one, cloud-based competitive intelligence tool that automates the collection and organization of information from a multitude of sources, allowing users to collaborate in real-time to develop strategic insights that provide a competitive advantage.
Conor McManus, CTO of Cipher, talks with clients every day and shared the following insight: "Our users are very excited to have Crunchbase data integrated with the rest of the company data already available within Knowledge360®. We have a wide variety of users that span a lot of different roles and responsibilities within their companies. Adding startups, funding, investments, and M&A data reduces their time spent scouring other products and websites to find valuable information needed to enable their executive, sales, marketing, and product teams to make informed decisions."
The Crunchbase integration joins a suite of other premium data sources and tools integrated into Knowledge360® including, but not limited to, Factset, SalesForce, Slack, and Tableau.
For more information or to schedule a demonstration of Knowledge360®, visit http://www.cipher-sys.com.
About Cipher
Cipher is a full-service competitive strategy and technology firm. We provide world-class consulting services and technology solutions that help our clients gain and maintain a competitive edge.
About Crunchbase
Crunchbase is the leading destination for millions of users to discover industry trends, investments, and news about global companies—from startups to the Fortune 1000. It has a unique and scalable approach to data collection leveraging a strong community of contributors, the largest venture partner network, and in-house data teams armed with powerful machine learning.