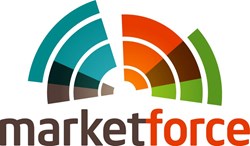 KnowledgeForce was born of a need to give companies a single, financially accountable view of all their customer-related information.
Boulder, CO (PRWEB) January 28, 2014
Market Force Information, a worldwide leader in customer intelligence solutions, today announced the official launch and general availability of KnowledgeForceSM, a customer intelligence platform that empowers consumer-facing businesses (retailers, grocers, restaurant chains, gas stations, etc.) to spend more time fixing problems and less time finding them.
The cloud computing-based platform enables businesses with multiple locations to quickly get a view of how each of their stores is operating by integrating their various streams of customer service measurement data and metrics, such as customer satisfaction surveys, mystery shopping audits, social media sentiments and call center reports, as well as financial metrics and third-party data. It correlates and summarizes the data, and presents it in an intuitive dashboard customized for every key role in the organization, from CEO and the COO down to the individual store managers.
"Our large retail and restaurant clients were swimming in data, and they weren't reaping its benefits because it was sealed off in different departments and computing systems," said Janet Eden-Harris, CMO of Market Force. "KnowledgeForce was born of a need to give companies a single, financially accountable view of all their customer-related information."
KnowledgeForce integrates multiple data streams, regardless if the data was collected by Market Force, generated internally by the client or provided by a third-party. It can help B2C businesses stay on top of their customers, their stores and their financial performance, and calculate the ways in which all three are connected.
Phillips 66, a downstream energy company that provides gasoline products to more than 7,000 independent locations across the country, implemented KnowledgeForce to help its locations meet high brand standards of customer excellence and make marked service improvements.
"Market Force's new customer intelligence platform is helping us assess how we're doing across all of our key measures, so we can take action to improve certain areas and understand which operational elements bring true delight," said Jack Whalen, manager, market development for Phillips 66. "Our goal is to serve consumers with great products and great service, so they come back more often, spend more and even refer their friends."
KnowledgeForce enables retailers and other multi-location businesses to get the benefits of big data computing in the cloud, without the need to invest in expensive computing power or development. As a result, executives can be armed with real-time data about the operations of each of their stores and the analysis to quickly pinpoint where action needs to be taken to improve performance.
"KnowledgeForce responds to a very real business problem that our clients are grappling with- how to integrate highly varied types of data to obtain a holistic view, without having to prepare or manipulate the data in any way" said Marcus Daley, Market Force's chief technology officer. "Many have spent millions to build in-house systems, only to find the result a disappointment because diverse formats, reporting periods and data types makes it extremely difficult to aggregate and analyze. KnowledgeForce solves these problems and more."
KnowledgeForce is available now, worldwide. For more information, visit http://www.marketforce.com/knowledgeforce.
About Market Force Information
Market Force is the leading global customer intelligence solutions company for multi-location businesses, including major retailers, restaurants, grocery and convenience stores, financial institutions, entertainment studios and consumer packaged goods companies. With more than 125 years of combined industry experience, Market Force has pioneered the industry with a suite of customer intelligence solutions – from proprietary decision-support tools to 600,000 field associates across North America and Europe who conduct mystery shopping, to real customer surveys, contact center solutions and social media monitoring. Its solutions enable brands to identify the actions required at the store level to increase customer loyalty and improve financial performance. Market Force was named one of Forbes' America's Most Promising Companies in 2011. For more information, visit http://www.marketforce.com.
###