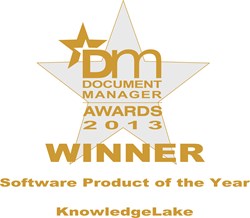 "After actively working in the EMEA market for several years, it is exciting to see KnowledgeLake's document capture and imaging software becoming the go-to solution for ECM in SharePoint." - Jennifer Van Lent
London, UK (PRWEB) October 15, 2013
KnowledgeLake is proud to announce their acceptance of two Document Manager (DM) Awards at the 7th Annual DM Awards ceremony in London, England this October. The SharePoint ECM Company walked away with the Compliance Product of the Year and Software Product of the Year, both awards for KnowledgeLake Imaging for SharePoint. The DM Awards honor excellence in the DM Industry.
Jennifer Van Lent, KnowledgeLake's director of solution marketing, EMEA, who accepted the award on behalf of KnowledgeLake, said, "It is an honor for KnowledgeLake to be recognized by the Document Manager community for our world-class KnowledgeLake Imaging solution. I am proud to accept these two prestigious awards on behalf of our global team. The true heroes of our company are the engineering, R&D and professional service teams who work tirelessly to build and deploy award-winning software which users love."
Featuring Master of Ceremonies, former Kent and England Cricket Captain, Chris Cowdrey, and British comedian, Stephen Grant, the DM Awards were held at Hotel Russell in London, England. Judges this year included Alison Gibney, deputy managing director of Cimtech; Graham Hadingham, consultant with In-Form Consult; Alan Pelz-Sharpe, research director for Content Management and Collaboration at 451 Research; and David Tyler, editor of Document Manager Magazine. DM Award Winners in the Product and Company categories are voted for by the public.
KnowledgeLake Imaging for SharePoint enables organizations to transform their out-of-the-box SharePoint deployments into a comprehensive, scalable and enterprise-ready content management system that blends information with employees and business processes to drive desired business results. More capable than more expensive legacy ECM applications, KnowledgeLake Document Imaging is easy to implement and administer, presents low risk, and is highly cost-effective.
"Software which supports corporate compliance requirements is becoming a high priority on the CIO agenda, and KnowledgeLake Imaging perfectly fits the need for secure, robust software which can be quickly deployed and deliver a rapid return on investment. After actively working in the EMEA market for several years, it is exciting to see KnowledgeLake's document capture and imaging software becoming the go-to solution for ECM in SharePoint," said Van Lent.
KnowledgeLake is sold through DICOM International and their sales partners in Europe, the Middle East and Africa. As the demand for SharePoint has grown in EMEA, so has the need for partner solutions like KnowledgeLake and ECM specialists like DICOM.
About KnowledgeLake
KnowledgeLake transforms SharePoint into an easy-to-use, powerful and scalable Enterprise Content Management (ECM) solution that enables organizations to manage corporate content and collaborate more effectively and efficiently across the entire organization. Headquartered in St. Louis, Missouri, KnowledgeLake is a three-time Microsoft Partner of the year award winner and is recognized as the founder of the SharePoint document imaging marketplace in 2003. KnowledgeLake enables its customers to maximize and extend their already sound investments in proven Microsoft technologies, such as Microsoft Windows Server, Microsoft SQL Server, Microsoft SharePoint and Microsoft Office. Equity funded by PFU Ltd. (a wholly owned subsidiary of Fujitsu Ltd.,) KnowledgeLake is a strong, stable and global company with over two million licensed users in 35 countries.