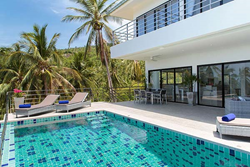 The warmth of the people as well as the growing market for high end services is gradually making Koh Samui a top destination for European and Asian travelers alike
Koh Samui, Thailand (PRWEB) October 03, 2014
Astoria Samui Villas, a website that offers in-depth Koh Samui property information as well as photos of available luxury villas on the island in Thailand, has just launched their new and user-friendly website. For people who are looking for a luxurious vacation getaway and want to know more about a specific house for sale Koh Samui based Astoria Samui Villas promises to be an outstanding resource.
In addition to the gallery of photos of the Koh Samui villas for sale, Astoria Samui Villas also includes details about the properties' various features, amenities and more.
To view each Koh Samui property for sale, people simply need to visit the website and click on the "Villas" tab located on the main page. Currently there are four villas that are featured on the Koh Samui real estate site: one that has already sold, two that are under construction and one that is available for 20 million THB. Described as "a gorgeous island residence," the fully-furnished villa features 3 bedrooms and 4 bathrooms, a 32 meter swimming pool, a gorgeous kitchen, and much more. Located about 1 kilometer from the beach, the contemporary villa is in a prime spot on the island.
As a spokesperson for the website noted, the idyllic island of Koh Samui, Thailand is a desirable location for many Westerners who are looking for a relaxing sun-filled vacation.
"In addition to that, today's visitors come to enjoy a collection of Asia's finest restaurants, beaches and recently, the rise of a number of world-class golf courses," the spokesperson said, adding that people can get to the island via a short 30-minute boat ride from the mainland.
"The warmth of the people as well as the growing market for high end services is gradually making Koh Samui a top destination for European and Asian travelers alike."
Anybody who would like to learn more about Astoria Samui Villas is welcome to visit the new website; there, they can browse through the photo galleries of the available villas as well as read more about the peaceful island.
About Astoria Samui Villas:
Astoria Samui Villas is a new website that specializes in information about some of the best Koh Samui real estate that is currently on the market. The site also features gorgeous color photos of available properties, as well as details about their features and price. For more information, please visit http://www.astoriasamuivillas.com/