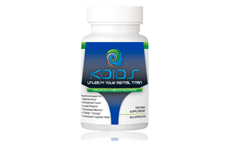 Taking supplements that target brain function will be as common as taking multi vitamins over the next decade.
Denver, CO (PRWEB) April 15, 2014
"A large portion of the worlds population may be suffering from mental fatigue and a loss of IQ due to circumstances from our childhood." - Dr. David Billinger
Dr. David Billinger, a neurological scientist at Harvard Medical School, calculates a total loss of 16.9 million IQ points have been eradicated due to pesticides used in agriculture. "We have been ingesting these pesticides for years and its damaged our brains," says Dr. Billinger. According to the study, even if people are living healthier lives today, we are combating years of abuse on the brain. "Brain health is something most of us overlook and now science is telling us to pay attention." "This is why we created our product, to help people feed their brains and live healthier lives,"says Chris Miller, President of Koios.
When asked why more people are not currently using brain supplements, Chris responded: "When people think about staying fit, they generally think from the neck down." But the health of your brain effects literally everything you do." "It effects our sleep, work performance, spare time, thinking ability, feelings, eating habits and generally how fit we become." Chris believes that supplementation for the brain will become just as common as supplementation for the body. See Bullet Proof Executives list of, "10 reasons why you should take supplements."
According to Natural Ingredients, brain food is listed as one of the top growing niches in supplementation. "Cognitive health is likely to gain momentum in 2012 and beyond as consumers seek new ways to stay focused and alert or look for products addressing memory loss." "Many consumers are simply looking to maintain their current state of cognitive health as well as prevent or slow down further decline. "
Koios is a nootropic or brain supplement that specifically targets brain function. Nootropics, according to Wikipedia, work by altering the availability of the brains supply of neurochecmicals (neurotransmitters, enzymes, and hormones), by improving the brains oxygen supply, or by stimulating nerve growth.
Years of research and development were conducted to find 11 ingredients that when combined help to maximize brain function. Each of those 11 ingredients is backed by over 30 years of science. According to their website: Koios can improve memory, concentration, mental clarity, create lasting energy and help strengthen the brain over time.
Koios is manufactured in the USA at one of the top nutraceutical labs in the world. When asked about Koios' manufacturing process Chris had this to say: "Our lab is an INC 500 company and GMP certified." "We wanted to create a supplement that was based on science and delivers the best ingredients in the world to our end users." "Our high quality manufacturing practices and ingredients are what set us apart from our competitors and is one of the key reasons Max Muscle chose to work with us. "
Bryan Cash, Director of Max Muscle South Metro in Highlands Ranch Colorado had this to say: "Max Muscle South Metro is excited to bring in Koios to support our current science minded philosophy on supplementation and nutrition." "Being Colorado's retail leader in supplements and nutrition we pride ourselves in carrying the best to achieve maximal long term results."
Max Muscle Sports Nutrition's focus on superior quality begins with product formulations that are strictly based on sound scientific research and coupled with the sourcing of only the finest raw materials and ingredients. All MMSN products are then manufactured in cGMP facilities in the USA. Each supplement they carry must pass a rigorous inspection process, which can often include third party testing. Max Muscle.
When asked about the new venture Chris said: "We are incredibly honored to be working with such a prestigious organization." "Max Muscle is known for delivering the highest quality products and we now we get to be a part of that, which is truly an honor."
Consumers will soon be able to purchase Koios across the nation at Max Muscle Retail locations.