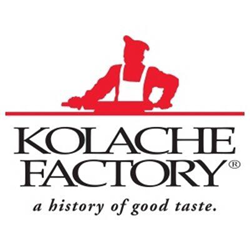 We know Dallas and the surrounding area have a huge potential for growth for the Stephenson's and other future franchisees.
RICHARDSON, Texas (PRWEB) October 05, 2018
Texans' favorite breakfast and lunch treat, including the pumpkin pie kolache-of-the-month, is now available in Dallas County as Kolache Factory opens its newest location at 2051 N. Central Expressway #101 in Richardson.
This is the 57th store for the Katy-based franchise but the first store to open in Dallas County.
"We know there are a lot of kolache lovers in Dallas County and it was time to bring a store closer to them. We are located right off 75, providing an easy gateway to the north, in and out of Dallas," said store owner David Stephenson.
The Richardson store is the second Kolache Factory location for David and his wife Gabriela. They also own the Kolache Factory in Murphy. Their recent expansion is all part of their long-term plan to own three to five Kolache Factory stores in the Dallas area, which fits perfectly with the brand's nationwide expansion plans.
"We know Dallas and the surrounding area have a huge potential for growth for the Stephenson's and other future franchisees," said Kolache Factory COO Dawn Nielsen. "We are very excited to see David and Gabriela expand into Dallas County. David's prior experience in the franchise industry has given him a wealth of information and understanding of what it takes to run a successful franchise business, and he generously shares that knowledge with the group."
Love at First Bite
Stephenson's love of kolaches started 20 years ago when a local Texan introduced him to the Czech-inspired handcrafted pastries stuffed with fruits, cheeses and meats. Eventually, the cafe-bakery became a family favorite for the Stephenson's and their two sons. It was on one of those visits that Stephenson bit into a delicious cheeseburger kolache and fell in love. When he looked down and saw a sign on the table that said, "Franchises Available" he knew it was an opportunity he couldn't pass up.
"We wanted something we knew Texans would love and this was it!" exclaimed Stephenson.
The fact that it was a family-based company and not a large corporation where franchisees are just a number was also appealing to the Stephensons. The bakery's breakfast and lunch hours (6 a.m.– 2 p.m.) have allowed them to place a priority on their own family as well as create good jobs in the community and offer a high-quality product that customers love.
About the Kolache Factory
Kolache Factory was founded in 1982 in Houston, Texas, by John and Jerri Banks, who identified a need for a fresh, high-quality breakfast that could be eaten "on the run." The Bankses encouraged consumers to try the high-quality, fresh pastries filled with fruits, meat and cheeses and soon they were in high demand for business meetings, family breakfasts, on-the-go lunches and afternoon snacks. Kolache Factory has been recognized as one of the Top 5 Drive-Thrus in America by Food Network, one of the fastest growing companies in Houston and one of the top 50 food service bakeries in the United States by Modern Baking magazine. In addition, Franchise Times magazine recently named Kolache Factory one of the 300 biggest brands in franchising by worldwide sales in 2017. In addition, Entrepreneur magazine named it among the top 200 food-based franchises in 2017. Kolache Factory is privately owned and operated and headquartered in Katy, Texas. For more information please visit http://www.kolachefactory.com.